South Sudan Conflict: Rebel Leader Riek Machar Demands Release of Prisoners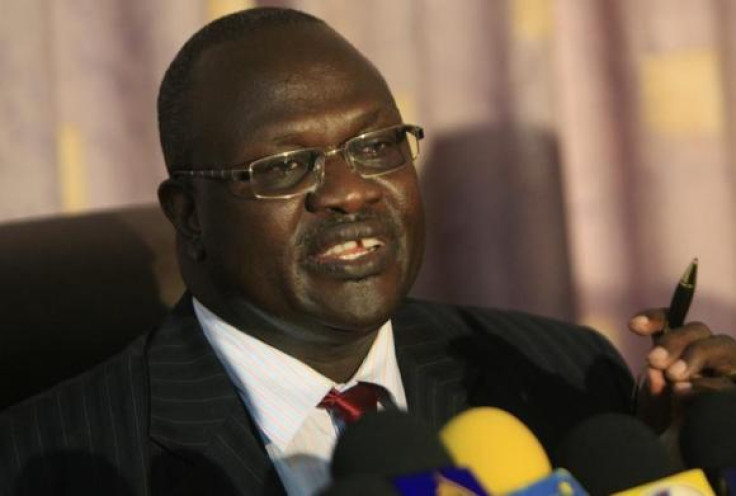 A US special envoy has met with rebel leader and former South Sudan Prime Minister Riek Machar to try and broker a ceasefire.
But a request by rebels to release 11 political detainees who have been accused of plotting against the government stands in the way of a possible ceasefire deal.
"Some of the major concerns he [Machar] raised were the release of detainees which he has made a precondition since the beginning for the signing of the cessation of hostilities agreement," Donald Booth, the US envoy told Reuters.
"What we really need to do is continue to press the government to find a way to enable those detainees to participate in political talks," Booth continued.
The government leaders proposed to shift the peace talks to the United Nations compound in Juba, capital of South Sudan, enabling the 11 detainees to attend the negotiations and then return to custody.
However, rebel delegates appeared to have rejected the proposal.
The UN Security Council has urged South Sudan President Salva Kiir to release the political prisoners.
Three African envoys of the Intergovernmental Authority on Development (IGAD) also met with Machar in order to facilitate the negotiations.
"There was some progress with him [Machar] agreeing to some elements of the cessation of hostilities draft agreement. He still has disagreements so we will work on it," an official told Reuters.
Obama has recently warned that US would stop sending aid to South Sudan, unless a ceasefire is signed.
China has also expressed its concern for the conflict.
The rebel-held city of Bentiu, the capital of oil-rich Unity State, has been taken over by government's army on Friday. The rebels said they made a "tactical withdrawal" from Bentiu to avoid civilian casualties.
Government troops have been also advancing on the town of Bor, the last state capital still in rebel hands, according to an army spokesperson.
The conflict started when current South Sudan's President Salva Kiir, who is an ethnic Dinka, accused his former and vice-president Machar, an ethnic Nuer, of an attempted coup in December.
Machar denied the allegations and in turn accused the president of planning a violent purge.
The accusations sparked violence between the two tribal groups and escalated quickly into an ethnic conflict, which has caused the death of over 1,000 people and left thousands uprooted.
© Copyright IBTimes 2023. All rights reserved.