Southeast Asia migrant crisis: Malaysian police find 139 mass graves near Thai border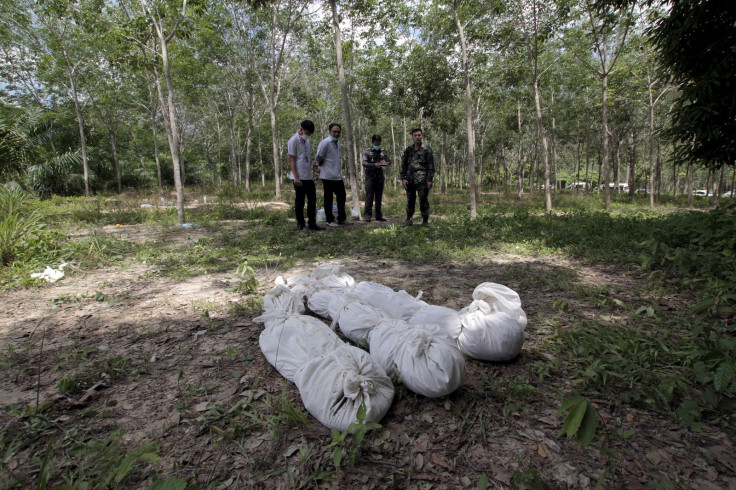 Malaysian police have found 139 mass graves and 28 human trafficking camps close to the Thai border.
"We don't know how many bodies are in the graves but exhumation works start today," Malaysia's Inspector-General of Police Khalid Abu Bakar told reporters at a press conference.
"We can't tell yet if they are the Rohingyas or Bangladeshis. We found a highly decomposed body on the ground, believed to have died two weeks ago."
Some of the graves are believed to contain more than one body. The bodies are being identified.
"[In] the operation which we have been conducting from 11 May to 23 May we discovered 139 of what we believe are graves. The first team of our officers has arrived in the area this morning to exhume the bodies," added Khalid.
The latest finding is close to the jungle camps, which were earlier discovered in Thailand containing several mass graves. The discovery of migrant graves has set off a region-wide crackdown and also escalated the Southeast Asia migrant crisis.
Malaysia's Prime Minister Najib Razak has vowed to punish the human traffickers. He said: "We will find those responsible."
Investigators in Kuala Lumpur suspect all the camps were set up by trafficking syndicates.
Home Minister Ahmad Zahid Hamidi said: "Malaysia as a government is not involved - but Malaysians, yes. I recognise that as a fact. But you know, in Mexico and the United States, they have more intelligence and state-of-the-art border security but there is still human trafficking happening there."
© Copyright IBTimes 2023. All rights reserved.