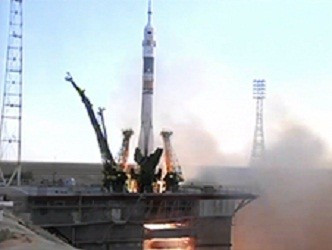 The Soyuz TMA-05M spacecraft was successfully launched from the Baikonur Cosmodrome, Kazakhstan, at 3:40 am BST on Sunday, according to Nasa.
The spacecraft, with three crew members Sunita Williams, Yuri Malenchenko and Aki Hoshide, will carry out a rendezvous and docking test with the International Space Station. The first docking will take place on 17 July 2012.
"The Soyuz had a very smooth ride into space," Reuters quoted a spokesman from Nasa, as saying. "The rocket blazed a bright orange trail through cloudy skies above the Kazakh steppe."
Once the spacecraft docks with the ISS, the three astronauts will work with Expedition 32 Commander Gennady Padalka, flight engineers Joe Acaba of Nasa and Sergei Revin of Russia, who have been working in the ISS since May 17. The crew members will perform two spacewalks and conduct some experiments.
The astronauts are also planning to conduct an orbital sporting event to mark the London Olympics.
"That's a whole lot of work the crew has to do to do the berthings, the dockings and the EVAs," Msnbc. MSN quoted Mike Suffredini, programme manager at the ISS, as saying. "In addition we will allocate 35 hours per week to research."
Nasa astronaut Sunita Willams had worked and lived in the ISS for six months in 2006. "Unfortunately our mission is only few months - I wish it would be years and years and years," Msnbc. MSN quoted Sunita Williams, as saying. "I'm really lucky to be flying with Yuri and Aki. I think we're going to have a great time."
The six crew members will work together for about two months. Expedition 32 crew members Acaba, Padalka and Revin are scheduled to return to earth on 17 September, 2012. Before they depart, Padalka will hand over command of the station and Expedition 33 to Williams. Willams, Malenchenko and Hoshide will return home in mid-November.