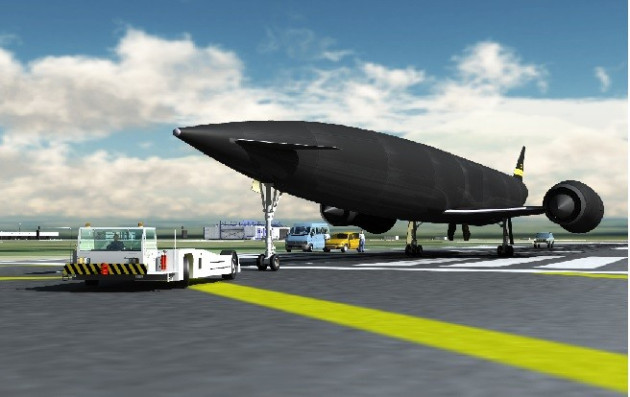 A revolutionary aircraft could fly passengers to Australia in four-and-a-half hours, or into the stratosphere in 15 minutes, after a £250m plan by a British inventor received the backing of the chancellor, George Osborne.
Alan Bond, the founder of Reaction Engines, based in Culham, Oxfordshire, is to receive £60m from the government to build a 3,500mph 'Skylon' aircraft, whose hybrid jet-rocket engine is capable of blasting into low earth orbit.
Osborne's decision to invest in the 'Sabre' engine follows 100 successful test runs and a study by the European Space Agency to validate the design.
The award will be announced by David Willetts, the science minister, at this week's UK Space conference in Glasgow.
"This engine has the potential to revolutionise space travel and global travel," said Willetts. "It represents British engineering at its best and I went to see George Osborne to recommend we support it."
It is envisaged the Skylon space plane could cut the cost of launches by more than 95%, bringing the cost of space travel in line with aviation. A passenger leaving London in the early afternoon could expect to arrive in Los Angeles on the morning of the same day.
Sir Richard Branson and his Virgin Galactic company offer trips into space with six minutes of weightlessness for £121,000, but Skylon is forecast to slash that price.
Bond's design circumvents the problems encountered by conventional engines, which cannot "breathe" air when travelling at more than 3,200km/h.
Instead, they must carry heavy tanks of liquid oxygen to enable them to burn fuel.
Bond's engine employs a dense system of ultra-thin pipes, filled with helium, through which the air must pass on its way through the engine, divesting it of its heat.
Once in space, the engine could convert to rocket mode, enabling the craft to manoeuvre and remain in orbit for days, launching satellites or docking with other spacecraft.
Bond said: "Rockets are stuck in a rut. The weight problem means it costs a great deal of money to launch even the smallest satellite.
"The basic problem is that when you suck air into an engine at high speed it instantly heats up to 1,000C - which is unmanageably hot.
"The challenge was to cool it back down to 140C in just a hundredth of a second - the time it takes to pass through the engine."
Bond, whose interest in space was inspired by reading science fiction including the Eagle comic's Dan Dare strips, said the Skylon could open up the solar system for exploration.
"It would allow us to launch satellites far more cheaply, to build space stations or to create orbiting solar arrays that would beam power to earth. We could even construct spaceships for missions to other planets."