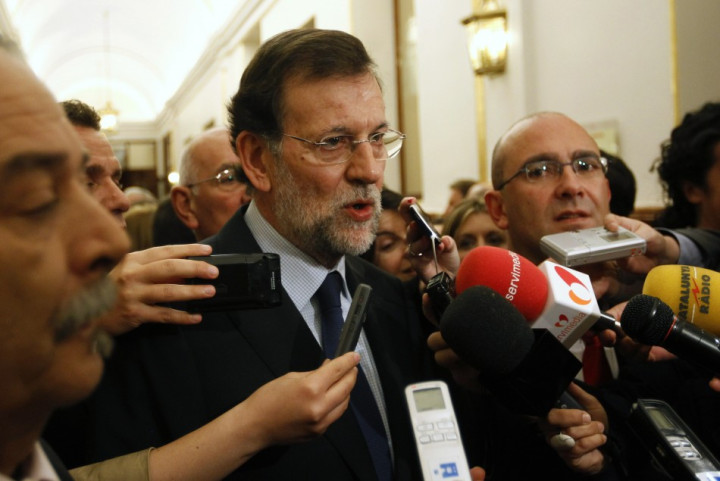 Spain's economic woes veered closer to crisis Friday as official data signalled and even deeper slowdown and investors reacted to a two-notch downgrade of the nation's debt rating by Standard & Poor's.
Unemployment in Europe's fourth-largest economy rose to a staggering 24.4 percent in the first quarter of this year, according to Spain's National Statistics Institute, a 1.5 percent increase from the final three months of last year and within 0.1 percent from a record high. The NSI also said retail sales for the month of March collapsed by 3.7 percent, extending the run of declines to 21 consecutive months.
Yields on Spain's benchmark ten-year bonds rose 17 basis points to trade at 6.02 percent. Spain's benchmark stock index, the IBEX, lost 0.1 percent in Madrid by 0900 GMT to trade at 7,019.00 The index has lost more than a third of its value in the past year.
Credit default swap prices on Spanish government debt traded nine basis points higher at 481 basis points. CDS contracts are a tool used by investors to hedge their bond holdings against default. In this case, an investor would have to pay $481,000 each year for five years to insure $10m in Spanish bonds against default.
Spain had it debt rating lowered by Standard & Poor's Thursday to BBB+, with a negative outlook, as the agency warned the nation's return to recession will make deficit reduction more difficult.
Spain's debt rating now sits only three steps from junk status after the two-notch downgrade.
"The deterioration in the budget deficit trajectory for 2011-2015, in contrast with our previous projections, and The increasing likelihood that the government will need to provide further fiscal support to the banking sector," S&P said in a statement released with the downgrade. "The negative outlook on the long-term rating reflects our view of the significant risks to Spain's economic growth and budgetary performance, and the impact we believe this will likely have on the sovereign's creditworthiness."
Spain's 10-year bond yields have remained stubbornly close to 6 pecent for most of this month, despite a relatively successful debt sale by the Spanish debt agency last week. The yields, which represent effective borrowing costs, are significantly higher than Eurozone neighbours France and Germany and dangerously close to the 7 percent threshold that triggered bailouts for Greece and Ireland.
"Financial sector reform, announced in February 2012, requires banks to allocate additional loan loss provisions and raise capital buffers on exposure to real estate developments and construction projects," S&P said. "We believe these sectors will continue to be the main sources of asset quality deterioration"
The Bank of Spain said last week that non-performing loans at the country's banks rose to their highest levels since October 1994 in February. So-called bad loans now comprise around €143.8bn, or 8.2 percent of banks' portfolios. The figures are a €3.8bn increase from January and have increased concern that many of Spain's financial institutions may struggle to survive if the economic situation worsens. Non-performing loans were only 1 percent of banks' portfolios prior to the 2008 credit crisis.
The Bank of Spain added that commercial banks will need to raise around €15bn - and take charges of €29bn - to meet the government's proposals for capital adequacy, which were announced in February. Many analysts feel the totals could be far higher if the economy, which the IMF said Tuesday will likely remain in recession for most of the year, continues to deteriorate.
"We could lower the ratings if we were to see a rise in net general government debt to above 80 percent of GDP during 2012-2014, reflecting fiscal deviations, weakening growth, or the crystallization of contingent liabilities on the government's balance sheet beyond our current projections," S&P said. "We could also consider a downgrade if political support for the current reform agenda were to wane."
Spain's Economy Secretary, Fernando Jimenez Latorre "absolutely" ruled out the use of EU funds to support the country's banks although he did concede that further public funds could be needed.
Spain officially sunk back into recession in the first three months of the year after a 0.4 percent contract was reported by the Bank of Spain Monday. Eurostat, the European statistics agency, also repoted that Spain's deficit hit 8.5 percent - more than four times the EU minimum - during 2011. Prime Minister Mariano Rajoy is currently attempted to implement nearly €27bn in spending cuts in an effort to reduce the deficit to a newly-agreed 5.3 percent.