Spanish archaeologists have discovered the remains of a casket with the initials MC, and believe it belongs to Don Quixote author Miguel de Cervantes.
Cervantes was an important Spanish poet, novelist and playwright from the 16<sup>th century whose work has left a huge influence on the Spanish language. Don Quixote is considered to be the first modern European novel and one of the best works of fiction ever written.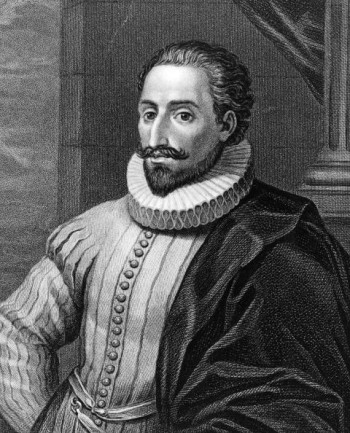 In 1616, Cervantes died and was buried at the Convent of the Barefoot Trinitarians in Madrid's Barrio de las Letras (the Literary Quarter), but in 1673 his bones went missing during building work, after they were taken to another convent and then returned and interred somewhere inside.
Since April 2014, a group of archaeologists and anthropologists have been searching the tiny convent chapel for his remains using an endoscope camera inserted through tiny holes and a geo-radar device mounted on wheels to scan beneath the chapel's floors.
The excavation has so far cost £37,381.
Discovery of the casket
Eventually, three unrecorded and unidentified graves in the chapel's crypt were marked for excavation, and on Saturday (24 January), the team of archaeologists and anthropologists discovered a wooden coffin marked with the initials MC in nails.
A collection of bones belonging to both children and adults were found interred 4.8 metres beneath the floor of the crypt, and there are a mix of bones in the wooden coffin that could contain Cervantes.
All the bones are now being exhumed and separate, with forensic specialists examining key details, such as the brow ridges, which .
The archaeologists are not certain whether any male remains found in the casket will be a match to Cervantes.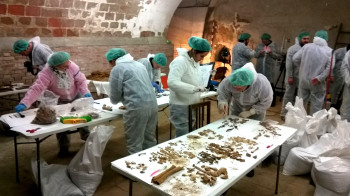 "Were we to find remains that fulfil the characteristics we are looking for, we could possibly pass to a next stage. That would be to compare DNA similarities with his sister, but that is a very complex step," said Francisco Etxeberria, a forensic medicine specialist from the University of the Basque Country.
How will we know it's really Cervantes?
Cervantes was 68 when he died. He is known to have suffered from curvature of the spine and arthritis, and as a young man he served in the Spanish Navy Marines and took part in several battles.
In one of the battles he was shot three times – twice in the chest and once in his left arm, which rendered his left hand useless.
His sister Luisa de Cervantes was buried in a convent in Alcala de Henares, 19 miles east of Madrid, in 1623. However Catalina Salazar, Cervantes' wife, is also buried in the same convent with him, but the location of her grave is also a mystery.
Etxeberria said that in order for the remains to be identified as Cervantes, other than the age of the bones, the adult male skeletal remains would need to bear evidence of bone atrophy in the bones of the left hand.