1555 BST: Implausible gains ...
... across the board as we close out European trading for the day. Britain's FTSE 100 is going to add triple-digit gains (1.95 percent) despite not a shred of good news to drive it with. The broader FTSE Eurofirst 300 will close around 1.55 percent higher at 1,009.03. Italy and Spain are the standout gainers, rising 2.3 percent and 1.6 percent respectively.
Wednesday we'll get to chew on Bank of England minutes, a sit-down between the last two remaining supporters of the European Fiscal Pact (Holland's Mark Rutte and Germany's Angela Merkel) and some interesting headlines from this month's Ecofin meeting in Brussels.
Good night!
1520 BST: Counterintutition continues
German September Bund futures hit a session low 141.57, down 107 ticks on a day when German investor sentiment fell the most since 1998, Spain paid 5 percent to borrow money for 12 months, unemployment in Sweden hit a one-year high and UK inflation had its first May decline in 16 years.
1505 BST: Hollande comments from G20
Speaking from this year's G20 Summit at Los Cabos, Mexico, France's President Francois Hollande says the IMF can't be considered a European backstop and that both he and German Chancellor Angela Merkel need to find solutions for the crisis closer to home. Perhaps some had considered the increase in IMF funding (to $456bn) a signal that the world's biggest economies were prepared to create the mother of all European firewalls, but given Hollande's statement and the "it's your fault" rift that's been clumsily on display over the course of the testy Summit, it's getting pretty clear that Europe is running out of allies. Fast.
1450 BST: Greece redux?
Dow Jones is reporting that Eurogroup chief Jean-Claude Juncker has said that an extension to the repayment terms of Greece's second, €130bn bailout could be up for discussion with the new government, but that substantial changes to the deal are impossible.
The key will be how the Troika and the new Greek coalition will define "substantial" - and how this definition will play to the Greek electorate who willingly obeyed the European warnings and elected a government that pledged to respect Greece's place within the Eurozone.
1410 BST: Missing copy
Apologies to all, but there seems to be some technical issues where have erased some of my previous blog entries. Gratefully, the overall market tenor hasn't changed that much and you still get the sense that asset prices are being driven by an assumption of central bank activity rather than fundamentals.
I'm convinced that the move on Spanish 10-year yields (11 basis points tighter at 7.04 percent) is little more than front-running an impending bid from the European Central Bank as opposed to any kind of optimism that followed the Spanish Treausry bill sale (5 percent plus for 12 and 18-month paper) or news of a delay in the banking sector audit.
We're seeing improvement in stocks (including a full 1 percent advance for the FTSE 100) despite a fall in May consumer prices and session lows for the September bund future despite the steepest drop in German investor sentiment since 1998. Fundamentally, none of this makes sense - until you factor in action from both the Bank of England and the ECB.
My guess is the market will continue to move on this "counter-intuitive" trade until we get a firmer sense of direction Mssrs Draghi and King.
1005 BST: German investor sentiment tanks
Investor expectations in Europe's biggest economy fell to -16.9 in June, as measured by the influential ZEW Institute. That's well shy of the 4.0 expected and the 10.8 recorded in May. The fall itself is the steepest decline since 1998.
The survey of current conditions also fell to 33.2 in June from 44.1 in May (analysts were looking for 39.8). Investors cited the worsening conditions in Spain's banking sector and the insecurity over Greece's election results (the poll was taken prior to Sunday's ballot and the New Democracy win).
0940 BST: Spanish auction results
Spain's Treasury bill sale has hit the tape: the government borrowed €3.04bn in 12-month and 18-month paper. The costs are beyond prohibitive. The one-year paper (€2.4bn) priced to yield 5.074 precent and a full 2 percent higher than at a similar auction in May. The 18-month portion (€639m) priced to yield 5.107 precent, 1.8 percent dearer than in the May sale.
If 7 percent is the "Maginot Line" of sustainable borrowing for 10-years, I shudder to think what 5 percent costs for 12-month paper indicate.
0930 BST: UK Inflation slows sharply
May inflation figures show a -0.1 percent change in the monthly rate of price rises, taking the annual rate of CPI to 2.8 percent - the lowest in three years - and swinging the door wide open for another round of asset purchases by the Bank of England.
Sterling is on the back foot (the Euro rose to 80.51 agsint it) and UK Gilt futures are extending gains after the data.
0915 BST: Lots of newsflow - none of it good
1. Germany's Constitutional Court has said that the government did not inform parliament correctly and in a timely manner about the construct of the European Stability Mechanism. This may not delay next week's vote on ratification, but it will likely broaden the terms of debate among German lawmakers - and the subsequent leakage into the press may further erode German taxpayers' confidence in what is essentially a Deutsche-funded bailout. It may also complicate plans to entrench the German-led drive for a European fiscal union going forward.
2. Greece's PASOK party, the king-maker in New Democracy's attempt to form a working coalition, said this morning it will form a team to start renegotiations with the European Union over terms of its €240bn bailout, setting the tone for what will be the new government voice in Greece.
0910 BST: Spanish delay?
Reports - as yet unconfirmed - suggest Spain will delay the publication of the private audit (ordered by the government) of its banking system until September. The figures were due tomorrow and unsourced reports yesterday from Spanish media suggested they would indicate a capital need of around €150bn.)
The indication is that the delay has been signed off by both the EU and the IMF. Even so, it's an extraordinarily risky move as it comes on the same morning as a planned €2bn sale in Treasury bills and only a day after Spanish bond yields hit a record 7.23 percent - precisely because investors are still unsure as to what kind of financial burden the Spanish government will need to take on to stabilize both its banking sector and the financial state of its 17 semi-autonomous regions.
Reuters is reporting that the first stage results will be published as expected (Wednesday) but the more detailed report will be delayed from 21 July to early September. This makes *much* more sense.
Spanish 10-year bond yields are little-changed at 7.14 percent.
0845 BST: Sterling stronger
The pound is trading a bit firmer against the US dollar this morning at 1.5691 ahead of both inflation day for May from the Office for National Statistics (analysts are looking for a monthly uptick of 0.2 percent and an annual rate of 3 percent) and this afternoon's announcement from the Bank of England on its Extended Collateral Term Repo facility (ECTR).
The Bank will offer 6-month loans at 0.75 precent against a basket of high-grade collateral. We'll know this afternoon what the total amount on offer will be, but minimum take-up for each back will be £5bn.
In the past, unorthodox lending from the Bank has had mixed success, even in the wake of the Northern Rock collapse back in 2007. On two consecutive occasions in the weeks after the Rock failed, there were no bidders for the Bank's offer of emergency funds - largely because of the stigma many banks would have had to endure in being publically named when seeking it. At the time, British banks in need of extra cash were happier to pay higher rates at the ECB in exchange for anonymity.
We'll see tomorrow if the same situation applies.
0830 BST: Overnight borrowing
ECB figures published this morning show European banks borrowed €4.4bn from the central bank's window last night, the highest total in nearly three months. Deposits at the ECB stood at €763bn.
0805 BST: Modest gains
European shares open with some cautious optimism ahead of a hectic day of newsflow from around the region: Britain's FTSE 100 is 0.3 percent higher with similar percentage gains in Spain and Italy. France's CAC-40 is 0.5 percent to the good while Germany's DAX is up 0.2 percent.
Bond markets are little changed from yesterday's closing levels across the 10-year sector: Germany (1.43 percent) UK (1.67 percent) Spain (7.14 percent) Italy (6.03 percent). The single currency is trading at $1.2610 against the US dollar.
0750 BST: Good Morning!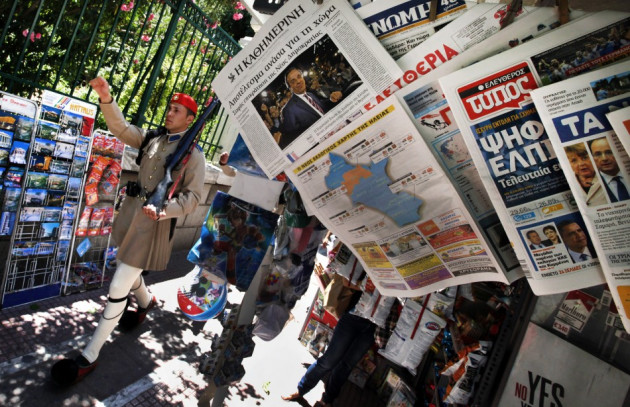 It's going to be a busy session across the region this morning as both Spain and Greece test the debt market waters amid some of the most significant financial market volatility of the past two years. European shares are called for a mixed open by financial bookmakers after a similarly indecisive session overnight in Asia, with the region-wide MSCI Asia Pacific Index rising only marginally (by 0.06 percent) as the session came to a close.
Greece will continue efforts today, led by New Democracy leader Antonis Samaras, to form a working coalition government that can tackle the EU/IMF-mandated deadline for structural reforms that will allow them to unlock as much as €31bn in funding. Spain will attempt to raise €2bn in short-term Treasury bills just a day before figures from a government-ordered audit of the banking system will likely show a capital need of around €100bn for its beleaguered financial sector.
Elsewhere, we'll see critical inflation figures published at 0930 BST here in the UK which will likely define the next move by the Bank of England. A tame acceleration in the cost of living in Britain's flagging economy may create enough room for the BoE to re-start its £325bn programme of quantitative easing. In Germany we'll see figures indicating economic sentiment and expectations for Europe's largest economy published by the research unit ZEW. Later today, new housing start data from the US for the month of May will be published at 1330 BST.
On the political front, Finland is set to vote on ratification of the permanent European Stability Mechanism and we may get a ruling on its legal status in Germany (ahead of next week's vote) by the Constitutional Court.