Spanish Farmers Dump Potatoes in Protest over Russian Sanctions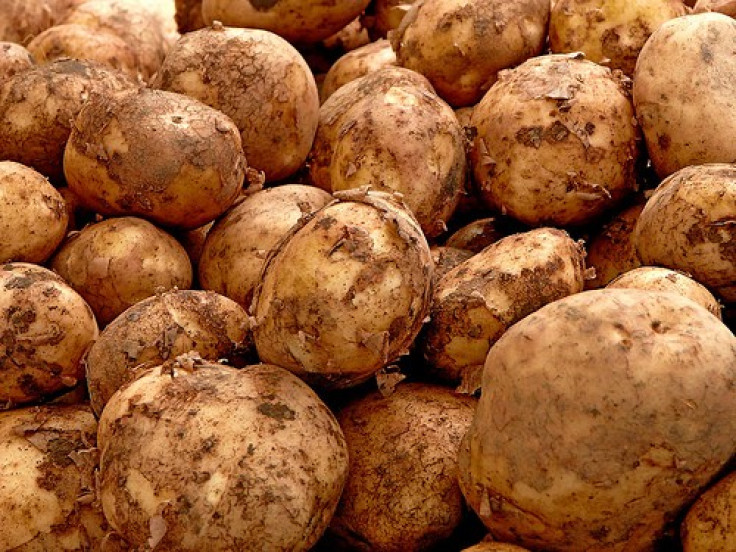 Spain's agricultural unions have dumped potatoes outside one of Europe's largest retailers in protest against low prices, amid sanctions on EU produce from Russia.
The Union de Pequenos Agriultores Granaderros (UPA) organised a protest in Granada, during which suppliers dumped their stocks outside Carrefour, accusing the French retail giant of squeezing farmers by paying too little for their crops.
Potatoes are not one of the items covered by the £100m European Commission emergency fund, which will be used to buy surplus stocks from farmers, which would have otherwise been exported to Russia.
UPA's regional head Agustin Rodriguez said: "We demand the Ministry of Agriculture and the regions that are put to work around this law of commercial banks to permanently eradicate the abuses of distribution. Tomato farmers are paid 25 cents a kilo, peppers, 27 cents, cabbage, 17, cauliflower, 12, prices are obviously even lower than before the veto.
"We have to remember once again that the Russian sanctions will be around for a whole year. This means that it will affect us in the present and future. We are risking losing a very important market for our annual work that we'll hardly be able to replace in the short term to recover sales and exports."
In the weeks since the Russian embargo came into effect, there have been frequent reports of European food stocks going to waste.
Despite returning one of the most positive set of GDP statistics in the Eurozone last week, Spain's economy continues to flounder. However, the wider economy is not expected to suffer greatly from the Russian ban on European fresh produce.
Spain has estimated it will miss out on €337 million in food and agriculture sales due to Russian sanctions blocking access to the market. According to Russian Federal Customs data, the value of sanctioned Spanish food exports to Russia is $792 million.
Dutch bank the ING Group estimate that the yearlong trade embargo could cost the whole EU €6.7 billion ($9 billion) and cost up to 130,000 jobs.
Given that Spain's unemployment rate continues to languish close to 25%, the government will be keen to avoid any setbacks.
UPA represents Spain's small and medium-sized agricultural suppliers.
Carrefour's head office in France told IBTimes UK that it was "not aware" of any organised protests against its buying policies.
© Copyright IBTimes 2023. All rights reserved.