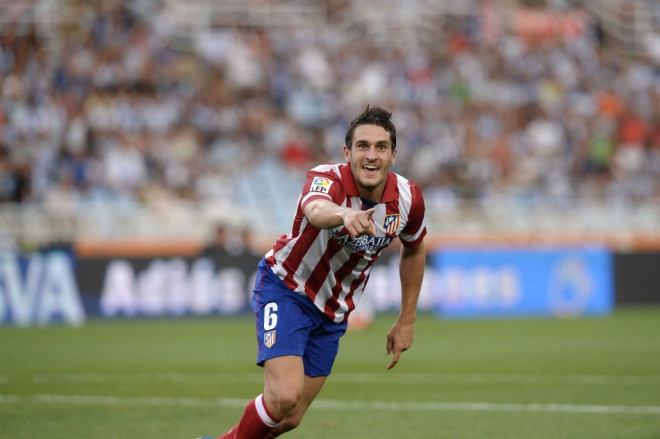 Manchester United's hopes of luring Atletico Madrid Koke away from the Spanish giants have been all but ended after the midfielder claimed he was happy in La Liga and may stay there forever.
The 22-year-old midfielder established himself back in the team in the 2012/13 season, becoming a pivotal player for manager Diego Simeone.
Koke's impressive performances in the top flight has also caught the eye of a number of big European clubs, while forcing his way into the Spanish national team. He is set to make the trip to Brazil to feature in the World Cup.
United have been heavily linked with his services since last summer when they failed to sign Athletic Bilbao star Ander Herrera and former Arsenal favourite Cesc Fabregas. Indeed, reports in January claimed Moyes was set to offer around £30m to Atletico Madrid to secure his services.
However, asked in an interview with Minuto 116 whether he will remain at Atletico forever, Koke said: "Maybe, why not?."
"I may stay here forever. I currently have a long contract with Atletico Madrid and I want to honour it because Atletico is my house. We're forging a strong side, a very nice project and hopefully I will be able to stay here for many years," Koke vowed.
Moyes was spotted earlier this season at the Vicente Calderon during Atletico Madrid's Champions League game against Porto, with reports claiming Koke was the main reason behind his scouting mission.
Even though United signed his compatriot Juan Mata during the latest transfer window it is expected Moyes will renew his efforts to sign Koke next summer, as he can operate both as a playmaker and in a deeper role.
But Koke's latest pronouncements may block United chances of securing his services in the summer.
Furthermore, Koke signed a new contract with Atletico last season, extending his stay until 2018 with his release clause increasing from €24m to €60m.
His agent, Iñaki Espizua, also insisted earlier this season that Koke wanted to stay at the Vicente Calderon.
"Koke is sure about what he wants for his future and is to be at Aletico Madrid. Right know he just thinks of staying at his club. He is very happy here. It is nice when other clubs are interested in him because it means that he is playing well and he should be glad for that but he has no intention of quitting Atletico."