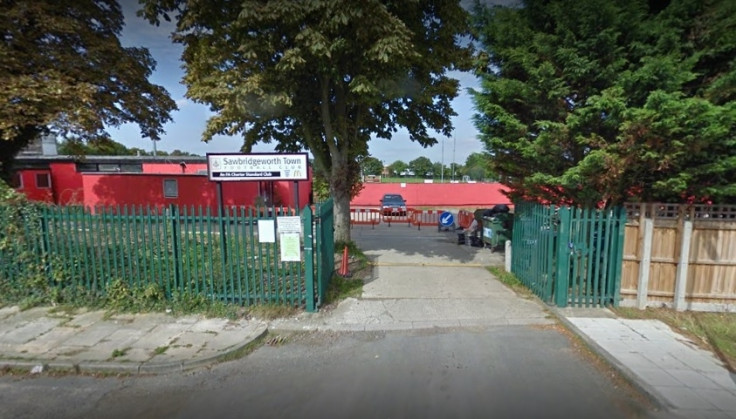 A non-league footballer threatened to throw "acid" over a rival team forcing a specialist chemical unit to investigate a bottle found at the scene.
Tempers flared at the end of an Essex Senior League reserves game between Sawbridgeworth Town Reserves and Thurrock FC Reserves on Saturday (19 August) with the teams confronting each other at the final whistle.
The match resulted in a nil-nil draw but when the match finished a fight broke out between the two sets of players.
It has been reported that a player ran into a changing room, grabbed a bottle and threaten to spray "acid" in the opposing team's faces.
An onlooker called the emergency services and four officers rushed to the Hertfordshire-based club where a bottle was found and sent to the specialist Chemical Biological Radiological Nuclear Explosive (CBRNE) team to probe its contents.
East Hertfordshire chief inspector, Gerry McDonald, said in a statement: "I am appealing to anyone who has information to come forward and tell us what they say.
"I am also requesting any CCTV or mobile phone footage of the incident that will help with our enquiries into this matter.
"We are treating this as a serious acid incident and the item containing the liquid has been passed to the CBRNe team for examination. There was a fear that the bottle contained acid."
No arrests were made following the game and it has not been revealed which team the player making the threats was playing for.
The Hertfordshire Constabulary arrived at around 4.45pm to investigate the incident and found a bottle which allegedly contained the noxious substance.
There were no reports of anyone coming into contact with the liquid during the incident, reported the Hertfordshire Mercury.
Earlier this year Sawbridgeworth Town FC player, Aidan Chaves, threatened a member of the crowd with a corkscrew during a game against Clacton FC.
Chaves has since pleaded guilty to a public order offence and possession of an offensive weapon and the case is currently in the court process.