The falling pound has brought tourists flocking to London looking for cheap deals on Rolex watches and Burberry coats.
Since the UK's vote to leave the European Union on 23 June sterling has fallen by around 15% against the dollar and around 20% against the euro.
This has been a boon for the UK's luxury industry, which is worth around £32bn ($39bn) a year, because just over half of all spending in this sector is from wealthy tourists from countries such as China, the Middle East, the US and Russia.
"The UK has now become the cheapest luxury goods market in the world post Brexit," says Exane BNP Paribas luxury goods analyst Luca Solca.
The UK's largest luxury brand Burberry reflected the boost to this sector when it said earlier this month that UK like-for-like sales raced ahead more than 30% in the three months to 30 September as overseas shoppers snapped up products such as new Bridle bag or its classic trenchcoats at its flagship London stores.
Carol Fairweather, chief financial officer of Burberry, said sales to Chinese shoppers in UK stores were up more than 20% over the period.
It came as a welcome boost to Burberry, valued at £6.4bn, and helped the group return to overall sales growth in its second quarter, up 2% against a 3% fall in the previous three months.
The FTSE 100 group said the extended run on the pound was also now expected to add around an extra £125m to full-year profits, up from July's estimate of £90m.
The most recent statistics from UK tourist body VisitBritain showed that 3.8 million overseas travellers came to the UK in August, up 2% on a year ago. They shelled out £2.8bn, a 4% improvement on 12 months ago.
Swiss watch sales
The Federation of the Swiss Watch Industry said watches worth 120.6m Swiss francs were exported to the UK last month, a jump of more than 32% on the previous year. The Federation said this was the third month in a row of "steeply rising sales" to the UK.
Michael Wainwright, the managing director of Boodles, said the British luxury jeweller had seen a 20% to 30% rise in tourist trade this summer.
The business has nine UK outlets, including a flagship stores on New Bond Street, where the managing director adds its tourist trade this summer has risen by some 20%-30%.
Wainwright said: "We see a lot of Middle Eastern tourists in our London stores. We also see a lot of Hong Kong, Malaysian and Thai holidaymakers. And the US tourist, who has been conspicuous by their absence in recent years, is beginning to return."
He added: "We feared the worst after the Brexit result. But the period since then has been substantially better than we thought it would be."
A spokeswoman for Boodles added that Patek Philippe watches, which range from around £15,000, "were selling incredibly well."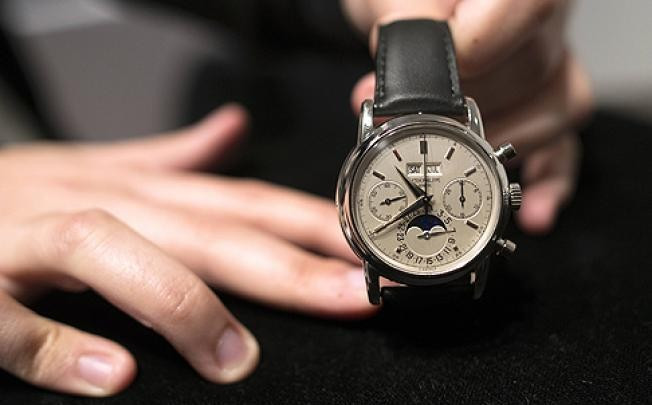 Exane BNP Paribas's Solca said he didn't expect luxury goods players to raise prices in the UK "for a few months, until the Brexit dust starts to settle. Tourist inflows and spend are highly correlated to foreign exchange."
Double whammy
He also added that nearby markets such as France, which also rely on tourist spending to boost its luxury goods markets have suffered "the double whammy of higher relative prices and new terrorist attacks. The likely consequence is a tourist spend boom in the UK."
This is borne out by Odile Lethies from France, who is shopping on Regent's Street. "Off course I am here to shop," she said. "Goods are 10-155 cheaper. I am looking for presents for Halloween and for Christmas as well."
"My husband is here for two days, and I decided to come over also to look for bargains. I was in Scotland at the start of the summer, and things are cheaper since I was last here."
But Boodles' Wainwright warns that this luxury sweet spot cannot last forever. He points that it pays for diamonds and gold in dollars and that these rising prices will have to be passed onto customers by Christmas.
He said: "Like many retailers we buy a number of products outside the UK, and a weaker pound pushes up our costs. Retailers will have to pass this onto customers."
However, at the moment tourists in the UK are determined to shop until they drop.