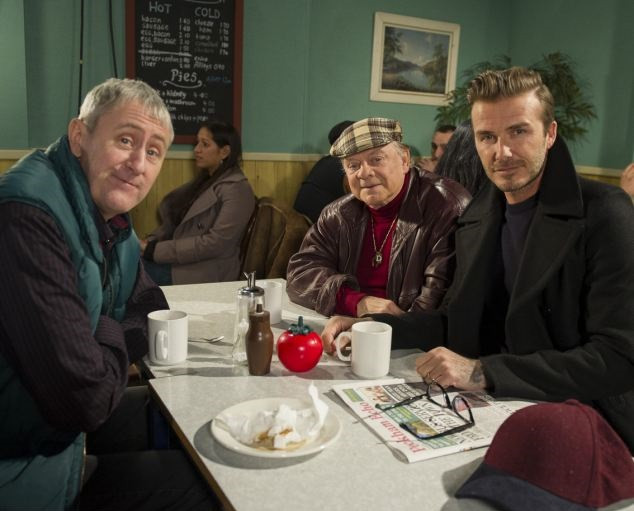 David Beckham found himself swapping the bright lights of LA for the streets of Peckham for a much anticipated Only Fools and Horses sketch for Sports Relief.
The football star has been a regular supporter of Sport Relief and is not averse to being made fun of for charity.
He showed off his acting skills, joining Del Boy and Rodney, as they discussed the best way to sell a job lot of David Beckham briefs.
The fashion icon was seen giving Rodney advice on how best to model the underwear telling him a "a great model doesn't turn, he oscillates."
The 38-year-old star recreated some of the most famous lines from the popular British series, including Del Boy's tendency for malapropisms and telling Rodney "Don't be such a tart."
And, emulating one of the most famous scenes from the series, when Del Boy leans on a bar and much to his embarrassment, falls, Beckham was seen falling sideways as a crowd of shoppers looked on.
The sketch was apparently the former England star's idea and it was he who convinced David Jason and Nicholas Lyndhurst to film the comic sequence.
Beckham admitted he was nervous about acting with his TV idols.
The star was previously interviewed along with his wife Victoria Beckham by comic Ali G, and has appeared in several sketches with James Corden.
You can make a donation to Sport Relief at http://www.sportrelief.com/or call 03457 910 910.