US government plans to secretly wiretap three high profile people in sport and finance were damaged after the media reports detailed the federal prosecutor's scheme before it was implemented.
According to the Wall Street Journal and Reuters, plans to secretly listen into conversations between activist investor Carl Icahn, golfer Phil Mickelson and legendary sports bettor Billy Walters, were scuppered as a range of news outlets, including those two agencies, revealed the government's plans before it became publicly available.
Reuters also said that the feds were using "several types of electronic and human surveillance [to investigate whether] Mickelson and Walters may have traded illegally on private information provided by Icahn about his investments in public companies".
Despite the investigation leak, Icahn, Mickelson, and Walters have not been accused of any wrongdoing.
Icahn and Mickelson told the agency defended themselves and said they have done nothing wrong while Walters has yet to respond to media calls for comment.
However, all is not apparently lost for federal authorities, as the WSJ said that investigators can sometimes look at how interested parties would react to the publicity around a leaked investigations, for example, what business decisions or conversations the individuals make thereafter.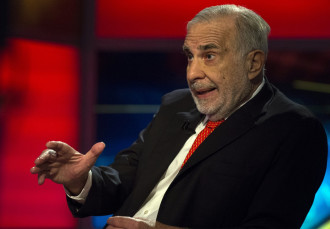 Who are Icahn, Mickelson, and Walters?
Mickelson, 43, is a professional American golfer who has won 42 events over the course of his career.
His wins include five major championships: three Masters titles, a PGA Championship, and an Open Championship.
Walters is a legendary sports gambler who infamously said in 2011 that he has never had a losing year in betting.
He also pioneered the use of computers in sports betting in the mid-1980s.
Icahn has a net worth of $23bn (£13.7bn, €16.9bn) and is the founder, Icahn Capital Management. As an activist investor, he has purchased shares in a number of massive companies across the globe, in order to snap up seats on the board, and change the company's future.
For example, he helped Aubrey McClendon out of Chesapeake Energy.