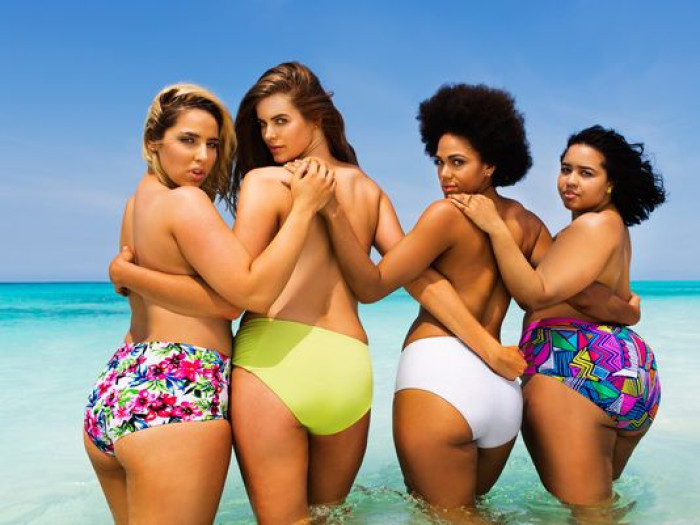 Sports Illustrated has recreated their infamous swimsuit issue cover using four "plus-sized" models. Robyn Lawley, Jada Sezer, Shareefa J and Gabi Gregg, a fashion blogger, all appear on the cover to promote "confident, sexy women with varying body types". Their aim? To prove that "sexy curves go beyond a size four".
Rather a U-turn for the magazine, whose covers normally resemble those of the late men's smut smorgasbord Nuts, Sports Illustrated has decided to fight a cause for women. And so far, they have received good feedback from body-positive activists who have praised the magazine for chipping away at the stigma which surrounds the industry of "plus-sized" models.
On the one hand, the use of different sized women has boosted the movement against prioritising thin women in fashion. Obviously it is essential to include women of all shapes and sizes and by putting these women on the cover, Sports Illustrated are pushing boundaries outlined by the fashion industry.
But on the other hand, it is hard for feminists to throw their hands in the air in celebration, when essentially the only achievement Sports Illustrated has managed to fulfil is to put more half-dressed women in sexualised poses on their cover.
Firstly, the term "plus-sized" is a phrase loaded with connotations. It can also be read as extra-sized, larger-sized, outsized – all horribly offensive, inaccurate terms to describe women. The cover does nothing but pigeonhole women and by creating a "special" issue, we are segregating them from the mainstream, the norm. And Sports Illustrated have flaunted this as a landmark for the equal representation of women in the magazine industry.
Secondly, Sports Illustrated is nothing more than the mainstream media's more acceptable outlet for pictures of naked women. Launched as a periodical for sports in 1954, it is marketed for content on athletics, fitness and physical activity – about "sports and the human spirit that makes us who we are". And then there is the Swimsuit Issue, which is more Page 3 than sports.
It is more than hypocritical for a magazine that rarely features women's sports to devote an entire issue to lingerie models with strategically-placed beads of sweat. This year, the issue had two covers – one of the model Kate Upton, wearing not much more than a come-hither look, and the other with three models bearing their bottoms and squeezing each other. It was so difficult to pick between breasts and behinds that the editors of Sports Illustrated decided to do both. The newest cover is just a replica of the second, and all three prioritise the objectification of women as sexual playthings and nothing more.
The only real connection between sports and swimsuit models is testosterone. In an attempt to stay afloat in the struggling magazine industry – Nuts folded in March, much to the delight of women worldwide – the swimsuit issue is simply a strategy to stay ahead of other men's publications. As evinced by most red tops, sports and women is a winning combination. For those in doubt about Sports Illustrated's stance on women, it is appropriate to mention that last year, they published an issue with a picture of a swimsuit-clad Barbie on the front.
For Nuts, the digital piping of an endless supply of sexist filth into bedrooms worldwide made the process of ashamedly visiting the local offie to spend £1.70 on a copy somewhat less appealing. We can only hope that this dissuades Sports Illustrated from following in their footsteps.