England and Scotland's football teams should be allowed to wear poppies on their kits when they go head-to-head on 11 November, Tracey Crouch has said.
The sports minister was reacting to news that the Football Association (FA) is urging Fifa to drop its ban of the symbol for the Armistice Day match.
"Footballers representing home nations should, if they choose, be able to wear their poppies with pride to pay tribute to the bravery and sacrifice of servicemen and women killed in conflict and to help support the armed forces community," Crouch said.
"To have our players compete with poppies on their shirts would be particularly poignant as we continue to commemorate the centenary of the First World War."
SNP MP Stewart McDonald, whose Glasgow South constituency includes Hampden Park Stadium, has written to the Scottish Football Association (SFA) ahead of the World Cup qualifier.
"Scottish football has a proud tradition of supporting the Poppy Appeal from players wearing poppies on their shirts previously to allowing charitable collections inside the gates on match days and it is important that clubs are allowed to show their respect and remember the great sacrifice that was made," McDonald said.
"During the First World War, 16 players from Hearts enlisted and were joined by players from Raith Rovers, Dunfermline, Hibs, St Bernard's and Fife in the same battalion. In total, 11 Hearts players and three from Raith Rovers were killed.
"Players should not be obliged to wear the poppy, but players should be able to wear it if they wish to do so – they must have the right to choose."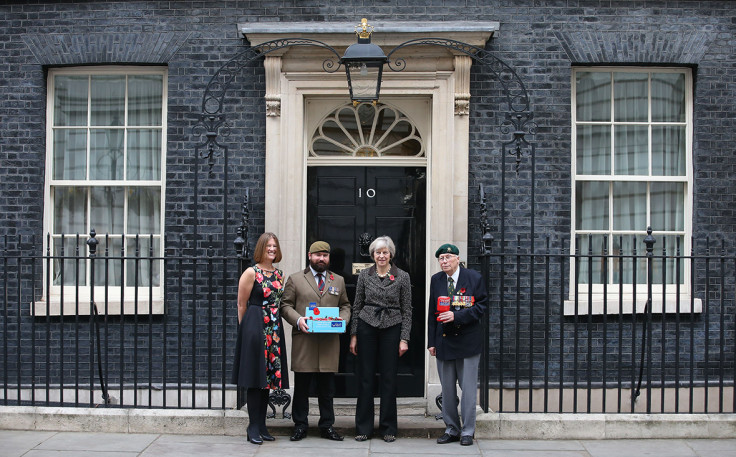 Teams are not allowed to carry political, religious or commercial messages on their shirts under Fifa regulations.
But the FA is keen to mark Armistice Day, when the UK remembers the nation's war dead.
During the Poppy Appeal 2016, 45 million poppies will be distributed with the aim of raising £43m ($53m), according to Royal British Legion.
Prime Minister Theresa May, who helped launch this year's appeal outside Number 10, said: "As a government we are firmly committed to doing all we can to ensure that those who serve or have served and their families are treated fairly.
"Through the Armed Forces Covenant we are providing a wide range of practical support including helping thousands of forces families to buy their own home and ensuring that veterans are given the support they need as they make the transition to civilian life."
UPDATE: 16:08 GMT
Tom Watson, the deputy leader of Labour, said: "Wearing a poppy should be a personal choice and it is not for FIFA or any other institution to decide whether England and Scotland players are permitted to wear one."