Britain's economy will weather the Brexit storm and grow much faster than expected this year, but will not avoid a slowdown in 2018, Philip Hammond said on Wednesday (8 March).
Delivering the last-ever Spring Budget, the Chancellor highlighted the Office for Budget Responsibility (OBR) had revised its forecast for the UK economy, which will now expand at a 2% rate this year, compared with an initial guideline of 1.4%.
However, growth will slow to 1.6% in 2018, compared with a previous forecast of 1.7%, before picking up to 1.7% in 2019 and 1.9% and 2% respectively in the two years thereafter. While the updated forecast paints a brighter present, the medium-term future is slightly bleaker, given the OBR had originally expected Britain's GDP to grow 2.1% in 2019 and 2020.
The economic forecast for 2021, however, remained unchanged.
Meanwhile, the Chancellor added that debt is forecast to be 86.8% of GDP this year, before reaching an 88.8% peak next year which, however, is 1.4% lower than initially forecast.
The OBR expects government borrowing for 2016-17 to be £51.7bn, which represents a £16.4bn drop from its November forecast and is also £4bn lower than the 2016 Budget figure. By 2021-22, the deficit is expected to drop to £16.8bn, while government borrowing as a percentage of GDP is expected to decline from 3.8% in 2016 to 2.6% this year, before rising to 2.9% in 2018-19 and falling to 0.7% in 2021-22, which would be the lowest rate in two decades.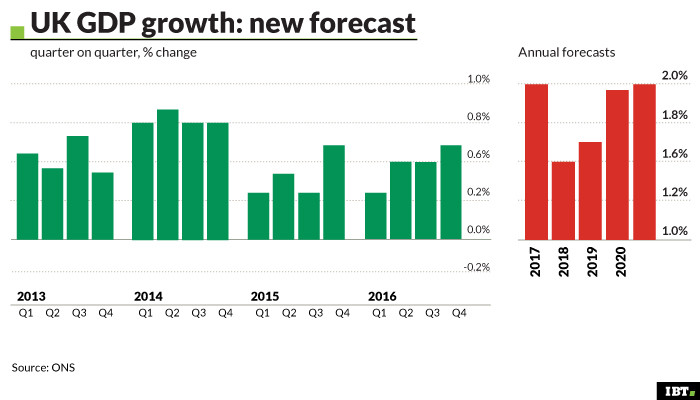 However, Hammond added lower borrowing did not justify unfunded spending, pointing out that Britain has a national debt of almost £1.7trn, which works out at roughly £62,000 per household.
"Each year, we are spending £50bn on debt interest – more than we spend on defence and policing combined," he told MPs.
"And borrowing over the forecast period is still set to be £100bn higher than predicted at Budget 2016."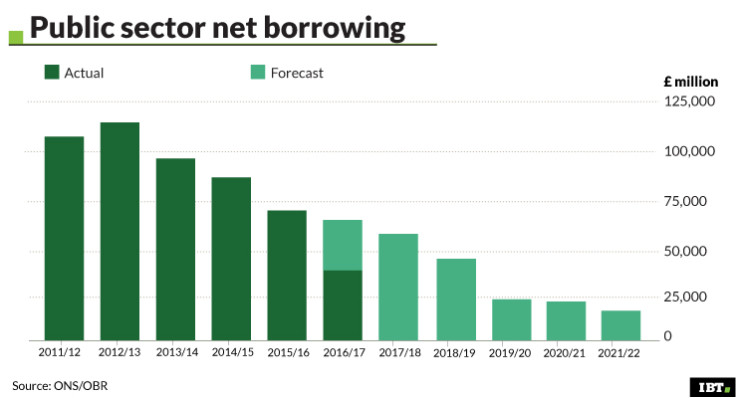 Analysts have suggested the OBR's caution on both the economy and the fiscal outlook deprived the Chancellor of the additional Brexit "war chest" that some had predicted.
"Although the OBR revised up its forecast for GDP growth in 2017 to 2%, from 1.4% previously, it maintained its previous view on the economy's medium-term potential," said Samuel Tombs, chief UK economist at Pantheon Macroeconomics. "As a result, the OBR reduced its forecasts for GDP growth in 2018 and beyond."
However, Hammond's "rainy day fund" could swell, should the economy remain robust. "If we are right in expecting the economy to remain rather more resilient than the OBR expects, then public borrowing will clearly fall rather faster and give the Chancellor more elbow room," said Jonathan Loynes, chief economist at Capital Economics.
"For now though, the big picture is still one of a substantial further tightening of fiscal policy over the coming years."
PwC chief economist John Hawksworth said Hammond delivered a "safety first" Budget with some well targeted giveaways on social care, vocational training and business rates relief that were broadly offset by tax rises for the self-employed and other measures.
"The Chancellor's caution is understandable given that, despite better than expected short term numbers, the OBR made little change to its medium-term projections for either economic growth or public borrowing," he added.
"The timing of the adverse economic and fiscal impact of Brexit has been pushed back a bit, but the eventual impact in 2021 remains more or less the same as in the Autumn Statement in November."