Spurs defender Jan Vertionghen believes that his side are confident enough to trouble Manchester United when they travel to Old Trafford at the weekend.
Tottenham traditionally have a tough time against Manchester United and have not managed a league win over Sir Alex Ferguson's side since 2001.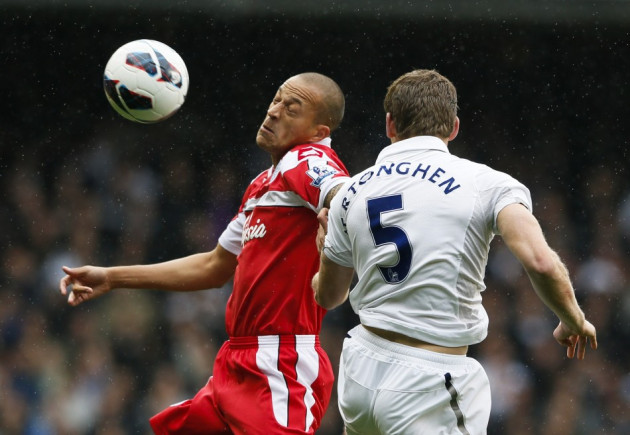 Their record at Old Trafford is even worse with Tottenham's last victory coming before the Premier League was established in December 1989, when Gary Linekar earned his side a 1-0 victory.
Despite this dismal record, Vertonghen believes there is a new-found belief in the Tottenham side after securing their first home win of the season over QPR, which came just one week after their first away win to Reading.
"I played at Old Trafford last year with Ajax and it's an amazing atmosphere," Vertonghen told the Daily Mirror.
"I'm really looking forward to my first game there with Tottenham. I think we're strong enough to do nice things there.
"We've played well away from home and we've got a lot of confidence especially after this first home win."
The Belgium international has settled quickly in north London and earned plenty of plaudits for his display in the 2-1 win against QPR after being moved to left-back in the second half.
Vertonghen admitted that he was happy to switch to full-back and with Benoit Assou-Ekotto currently sidelined through injury, he may have to play this role against Manchester United.
"I play [at left-back] for the national team and if I can help the team there I will," added the former Ajax captain. "I'm happy I was involved in the second goal - I hope they give me an assist for that one.
"English football is everything I was expecting. I love it. There's a great ambience and it's a shame we have to struggle every game to the last minute.
"At the end of the year, I think I'll need a good vacation! It was a good turn-around in the second half. We made a few changes, played another system and it was good tactical decision by the manager.
"It was very important to get that first home win and get the fans on our side, they were not too happy in the first half.
"We want to dominate and play our own game at home and we've struggled to do that."