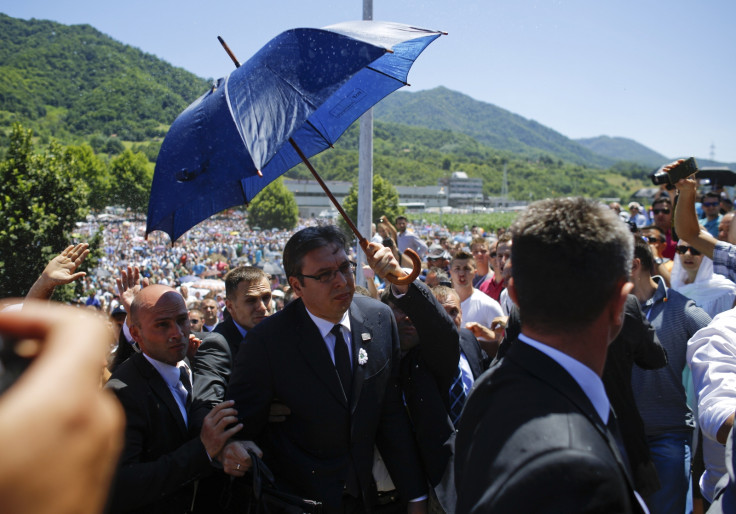 Serbia's Prime Minister Aleksandar Vucic has been chased out of a ceremony commemorating the 20th anniversary of the genocide in Srebrenica.
Serbian state news Tanjug reports that a number of people started throwing stones, shoes and bottles while chanting "Allahu Akbar" (God is Great) as members of the Serbian delegation were placing lilies on the memorial.
Serbia's Tanjug state-run news agency report that he was hit on the head by a stone and had his glasses broken.
Eye-witnesses told Reuters that stones and bottles were lobbed in the direction of the Prime Minister, as his delegation ran away and fled in vehicles.
Serbia state broadcaster RTS reports that one person was arrested for the attack.
Serbia's interior minister Nebojsa Stefanovic has described the attack as an "assassination attempt."
"Bosnia has failed to create even the minimal conditions for the safety of the prime minister," he said.
The ceremony was attended by thousands of people including numerous dignitaries.
Shortly before arriving, PM Vucic, condemned the "monstrous crime" in Srebrenica, where 8,000 Muslim men and boys were murdered by Bosnian Serb forces during and after the 1992-95 war in Bosnia.
"I hope that such a terrible crime will not happen again. Confident of a different, better future in relations between Serbs and Bosniaks, I express my deepest respect for all the victims and their families," Vucic stated at the Memorial Hall after signing the book of condolences.
"Here in Srebrenica each one of us has to bow our head, not forget, and start building a different future," he wrote in the book of condolences.
The Massacre
The United Nations declared the eastern town a safe haven for civilians in 1993, but on 11 July, 1995, Serb troops overran the Muslim enclave.
The ethnic Serb forces gunned down Muslim boys and men in and around Srebrenica for three days, according to CNN. Their bodies were dumped into mass graves, as part of a brutal campaign of ethnic cleansing.
The massacre was stopped after a peace deal was made to end the Bosnian war in 1995.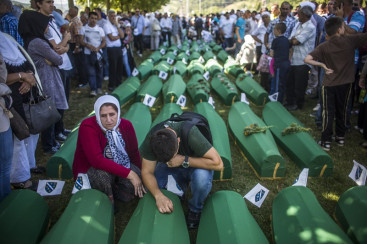 "That awful act finally stirred all the members of NATO to support the military intervention that was clearly necessary," Clinton said in his address at the time of the attacks.
The extended slaughter of civilians, including children, women and old men in Bosnia-Herzegovina, had taken around 100,000 Muslim lives.
The victim's bodies were scattered in various spots, and searchers still work to this day in order to recover and identify them.
Sky reports that Serbian and Bosnian Serb politicians denied the extent of the killing as 'genocide,' even though two international tribunals have described the bloodshed as such.
It is considered to be the worst slaughter in Europe since the Holocaust in World War Two.
So far, remains of some 7,000 victims have been excavated from 93 graves or collected from 314 surface locations and identified through DNA technology.
136 more coffins of victims, identified by DNA test last year, were brought to a memorial centre in Potocari village, just north-west to Srebrenica town, to be buried the next day.