St Patrick's Day is fast approaching and celebrations will kick off early in London with a festival and parade. On Sunday 13 March, Trafalgar Square will host a lively event celebrating the best of Irish culture with a packed programme of entertainment.
The day is dedicated to the patron saint of Ireland and is traditionally celebrated with wearing green and shamrocks. The biggest festivities take place in Ireland, but St Patrick's Day is widely celebrated by ex-pats around the world, from London to Boston to Hong Kong.
Parade
Every year, a St Patrick's Day parade takes place on the Sunday closest to 17 March. This year, the parade will be on Sunday 13 March. It features stunning pageantry, marching bands and floats, with performances from Irish dancing schools from across the country.
The parade will head down Piccadilly on a 1.5-mile route, passing The Ritz, Piccadilly Circus, Trafalgar Square and Whitehall. It starts at midday.
St Patrick's Day Festival
The festival in Trafalgar Square is free and offers a selection of activities and entertainment, such as a food market, comedy, film showings, music, dance performances and ceilidhs. There are plenty of children's activities too. The festival starts at midday.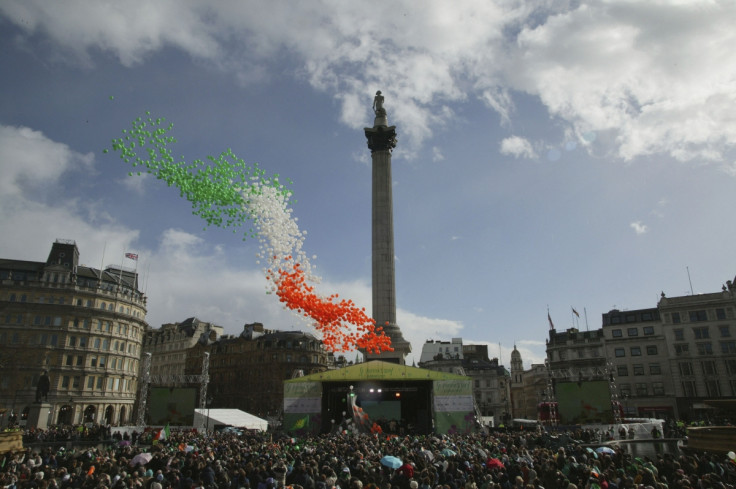 The food market will offer a selection of Irish delicacies, including an Irish beef stew cooked on "live fire" by acclaimed Irish chef John Relihan.
What else is going on?
As part of the St Patrick's Day Festival, the Irish Cultural Centre will be hosting a Q&A session on "Modern Ireland's Changing Faces" with the former Ireland president, Mary McAleese, at City Hall. The event will take place on Thursday 10 March from 7.30pm. You can visit Eventbrite for more details.
On Sunday 13 March, two film events will be held at the festival. The St Patrick's Day Film Festival is at the Regent Street Cinema with a series of short films from 11.30am to 2.30pm and an evening feature showing from 7.30pm.