Saint Patrick, the patron saint of Ireland, is one of Christianity's most widely known figures. For more than a thousand years, the Irish have celebrated the saint's religious feast day and the anniversary of his death in the fifth century on 17 March, observed around the world as St Patrick's Day. But despite his fame, his life remains a mystery.
Two letters written in Latin are generally accepted to have been penned by Patrick. These are the Declaration (or Confessio in Latin) and the letter to the soldier of Coroticus, from which come the only generally accepted details of his life – although they are disputed by some.
It is largely assumed Saint Patrick was born in Ireland. Yet, unbeknown to most, Patrick was born in northern Roman Britain around 387BC. He led a privileged life in a comfortable Roman household. Calpurnius, his father, was a deacon; his grandfather, Potitus, was a priest; they were both from Banna Venta Berniae. Some have identified the unknown location as South Wales, while others have claimed it is in Somerset.
According to the Confessio of Patrick, his life was changed dramatically when he was captured by Irish pirates at the age of 16 and brought to Ireland as a slave – where legend states he tended to pigs and sheep on Slemish Mountain in County Antrim for six years. During this period, it is said he developed a profound Christian faith. His later writings in the Confession and letter to Coroticus describe his enduring faith, despite his circumstances.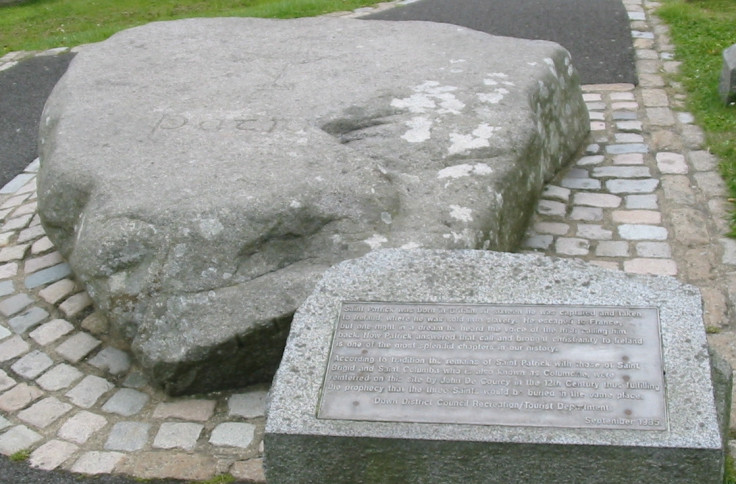 After six years, Patrick claimed he heard a voice telling him that he would soon go home and that his ship was ready. Fleeing his captors, he travelled to a port around 200 miles away where he persuaded the captain of a ship to let him on.
After three days of sailing, they landed in Britain, where Patrick walked for 28 days in a "wilderness". Eventually, he returned home to his family, now in his mid-twenties, where he moved to France to study for the priesthood. Within several years, he was ordained a priest and then a bishop.
Patrick recounted a vision he said he witnessed a few years after returning home. "I saw a man coming, as it were from Ireland," he wrote. "His name was Victoricus, and he carried many letters, and he gave me one of them. I read the heading: 'The Voice of the Irish.'
"As I began the letter, I imagined in that moment that I heard the voice of those very people who were near the wood of Foclut, which is beside the western sea — and they cried out, as with one voice: 'We appeal to you, holy servant boy, to come and walk among us.'"
According to historian ABE Hood, the Victoricus of Patrick's vision may be identified with Saint Victricius, bishop of Rouen in the late 4th century, who had visited Britain in 396BC. Acting on the vision, Patrick was ordained as a priest after studying in France and later returned to Ireland as a Christian missionary. According to JB Bury, his landing place was Wicklow but he was forced to seek one further north after he was rejected by the locals.