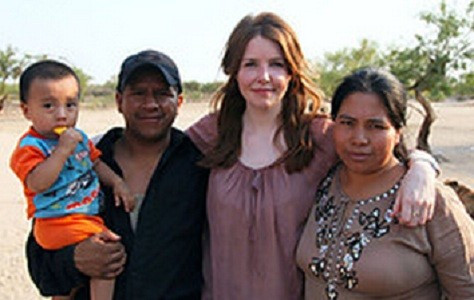 Stacey Dooley will examine border control in the US in the final episode of her three-part series.
Every year, thousands of people risk their lives to get to the US from Mexico, facing 70 degree temperatures, rattlesnakes and a five-day trek across the Sonoran Desert.
Once they reach the US, in Texas, they come across border guards whose job it is to keep them out.
After looking into young men taking part in gay conversion therapy, Dooley meets people who are prepared to risk their lives for the American dream.
According to Amnesty International, migrants face shocking dangers to get to the US. Many are kidnapped, tortured and held hostage until their families in the US send money to release them.
The human rights group says six in ten female migrants are likely to be raped. In July, 2011, 41 people were killed in one day during attacks in Monterrey, north east Mexico.
In 2010, 72 potential illegal immigrants from Mexico were executed on a remote ranch 90 miles from the US border.
The drug gang that murdered them, Los Zetas, captured them as they made their way to the US and killed them when they refused to work for them.
The Immigration and Customs Enforcement continues to deport Mexican nationals to Chihuahua, despite it being the deadliest city in the country in 2009.
During the BBC3 documentary, Dooley meets Maria, a 19-year-old who wants to get to the US to support her two young children. As a woman travelling alone, she is extremely vulnerable.
She also witnesses the rescue of a young Guatemalan girl you is seven months pregnant.
Finally, she meets Manuela and Jorge, a couple who borrowed thousands of dollars to get to the US. However, the smuggler taking them refuses to take them and they have few options for how to repay the money.
It is estimated that 12.7 million Mexican immigrants lived in the US in 2008, accounting for 32 per cent of all immigrants living there. Pew Research says 55 per cent of the Mexican immigrants are unauthorised.
Border Wars: Stacey Dooley In The USA is on BBC3 at 9pm Monday.