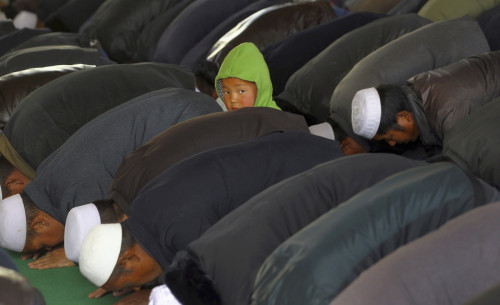 Fourteen people, including six children, have been killed in a stampede at a mosque belonging to a Muslim ethnic minority in northwestern China.
The stampede occurred when traditional cakes were being distributed at a ceremony at Beida mosque in Xiji town, the official Xinhua news agency reported.
Xiji is about 322 km (200 miles) northwest of Xian, and falls in the Ningxia Hui province, an autonomous administrative region of China. The province is home to the Hui Muslim ethnic group that makes up 36% of the multi-cultural community.
At least ten people were injured and four of them are in critical condition.
Images from the scene show a large crowd of men standing in the premises of the mosque, with clothes and shoes strewn about on the ground besides a section of collapsed scaffolding.
An investigation is under way to ascertain the cause of the stampede at the mosque.
Hui are the Chinese-speaking Muslim minority, who are distinct from the Uighurs of Xinjiang, and are mainly concentrated in the northwest. The town of Xiji is one of their major hubs.
Ningxia has no recent history of ethnic tensions between the Hui and China's Han majority, even though the province had witnessed a Muslim rebellion in the 19th century.