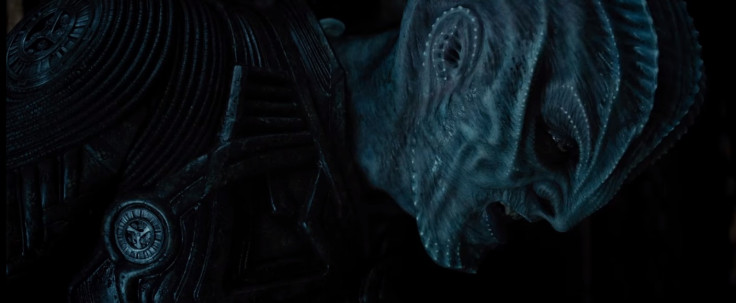 Star Trek Beyond is set to hit cinemas on 21 July, and days ahead of its release a new TV spot offers up a rather big reveal about the mysterious villain Krall, played by Idris Elba. The spot sheds some light as to why he became evil and dangerous.
Despite a 90% rating on Rotten Tomatoes and an 8.4 on IGN, the film has received mixed reviews on the whole. This however, has no chance of deterring Trekkies from lining up to watch Captain Kirk and his team (especially the late Anton Yelchin) take on a new adversary.
Going by the trailers, this time around the USS Enterprise receives a thorough beating at the hands of the sequel's electric blue-skinned alien.
"The Federation do not care about us," Krall says in the clip. "They abandoned this planet long ago. You'll probably never see me again. But if you do, be ready."
Krall was formerly of a human-type race that was probably abandoned by the Federation at a time when it was under attack. He is now out to exact revenge and the Enterprise and its crew are on his kill list.
Slash Film pointed out that according to the Star Trek databank, Krall is "a Gorn assassin who later befriended Nox the Romulan commander of the USS Admonitor, and later became one of the founders of the Klingon Alliance."However Director Justin Lin has clarified that he is a "new species". "He's a character that has a very distinct philosophy that's very different," he said according to the movie news website.
The filmmaker went on the praise Elba for his dedication to the role, especially considering the amount of time it took on makeup, each day of filming. "I've worked with some really great people and Idris immerses himself and I really enjoyed working with him because he's all about the character and what's best about the character's journey in the film. The only thing that sucked is it took four hours every time we needed to get him on set," Lin said.