Star Wars: The Last Jedi deleted scene reveals different fate for Captain Phasma
A new take on Phasma and Finn's climatic fight.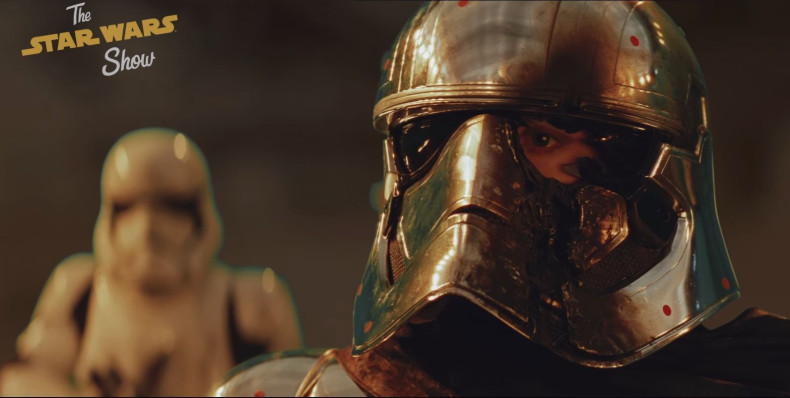 A deleted scene from Star Wars: The Last Jedi has been released online, showing a different take on one of the hit film's biggest action sequences. In it, we see what transpires at the end of the fight between John Boyega's Finn and Gwendoline Christie's Captain Phasma.
The scene, a roughly cut, unfinished version of a scene filmed on a partial set against green screen, was revealed in the latest episode of The Star Wars Show: Lucasfilm's own YouTube series dedicated to the franchise.
Said scene has been revealed ahead of the film's release digitally, on DVD and Blu-Ray later this month in the US, and its UK release in early April.
(Warning: Our description of the scene will include spoilers from The Last Jedi)
At the conclusion of the film's second act, several of our heroes converge on Supreme Leader Snoke's ship the Supremacy. Finn, Rose (Kelly Marie-Tran) and BB-8 are aboard in an attempt to save the Resistance ships the Supremacy is chasing down.
They're caught however, and about to be executed when the lead Resistance ship - having evacuated its crew - is used as a lightspeed battering ram by lone pilot Vice Admiral Holdo (Laura Dern).
The resulting carnage tears the ship apart, giving our heroes a chance to escape, but Phasma attempts to stop them. Finn, who used to be Stormtrooper under her command, engages in a fight with her and her troopers.
In the final cut of the film, Phasma sends Finn down a shaft thinking he's dead, only for him to reappear on a lift and crack open her helmet, revealing her eye.
In the deleted scene Phasma's helmet is cracked and the two talk. Phasma calls Finn a traitor, but Finn snipes back, saying how Phasma buckled when captured by him and turned off Starkiller Base's shields in 2015's The Force Awakens.
Phasma asks: "Who would believe a story like that?" But we see her stormtroopers show signs that they might. Phasma kills all four in a flurry before charging at Finn, who takes a swipe that disarms (and dis-hands) Phasma.
She knocks him to the ground before we wear dialogue that made the final cut. "You were always scum," Phasma said. "Rebel scum," Finn replies, before blasting Phasma away.
It's interesting to see the scene in question, but it's pretty clear why it was cut. The point of the scene is for Finn to say "Rebel scum" and finally admit to himself that he's part of the Resistance. How Phasma ultimately dies doesn't matter as much as that. The final scene reduces the scene down to its core point.