Donald Trump as the US President seems to have given quite a few celebrities – and people across the world, in general – some food for thought, with some of them probably telling themselves that if the real estate mogul could do it, then maybe they can too.
However, things may not be as easy as they seem.
Trump came into office promising to change the face of American politics and transfer power "back to the people". But after his first 100 days in office, he told Reuters, "I loved my previous life. I had so many things going.
"This is more work than in my previous life. I thought it would be easier," he added.
In fact, Trump's tweets arguably get him more attention than most of his government's policy decisions.
With a number of celebrities stating their intention to run for elected office after probably being 'inspired' by The Don, IBTimes UK takes a look at some of the more unlikely ones who might just take the plunge.
Kanye West
The American rapper, songwriter, record producer, fashion designer and entrepreneur surprised everyone when he announced his intention to run for president in 2020, saying Trump's victory only reaffirmed his desire.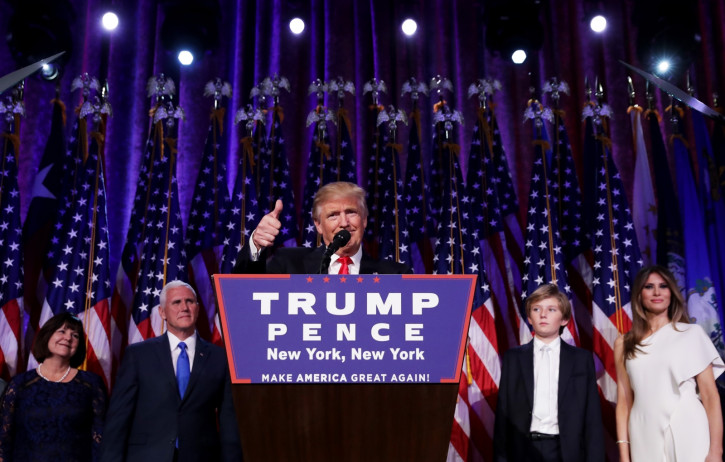 "Rappers are philosophers of our now, celebrities are the influencers of our now, just look at the president," he explained. "[Trump] wasn't in politics and won."
After a meeting with Trump, however, West decided to postpone his presidential bid so as to not run against Trump in 2020. A 2024 election bid, though, is a real possibility for the rapper.
Dwayne 'The Rock' Johnson
The actor, producer and professional wrestler also wasn't too far behind, saying that he might run for the White House someday.
He made his announcement in an interview with GQ in May and said "of course" he'd consider putting his name in the hat for the 2020 election.
We are not sure whether the former WWE was actually serious, though.
Johnson, who is registered as an Independent, shared an image of himself on Twitter standing behind a podium labelled "'The Rock' Johnson 2020" to promote a Saturday Night Live episode.
He had jokingly "announced" on the show that he and Tom Hanks were teaming up for a bid.
Caitlyn Jenner
The reality TV star, formerly known as Bruce Jenner before her sex change, is a retired Olympic gold medal-winning decathlete.
Jenner had indicated that she may run for the Senate in California and has publicly identified herself as a Republican. She even attended Trump's presidential inauguration at the beginning of this year.
She said, "The political side of it has always been very intriguing to me. Over the next six months or so, I gotta find out where I can do a better job.
"Can I do a better job from the outside? Kind of working the perimeter of the political scene, being open to talking to anybody? Or are you better from the inside? And we are in the process of determining that."
Kid Rock
The musician from Detroit, whose real name is Robert Ritchie, has been touted in the past as a possible Republican challenger to unseat Michigan Senator Debbie Stabenow, who is up for re-election in 2018.
He confirmed that his campaign website titled "Kid Rock for Senate" was real.
"I have had a ton of emails and texts asking me if this website is real... http://kidrockforsenate.com the answer is an absolute YES," he tweeted.
"Stay tuned, I will have a major announcement in the near future – Kid Rock," he teased.
Katy Perry
The popular singer and songwriter posted an Instagram photo with former US presidents George W. Bush and Bill Clinton a month after Trump declared his candidacy last year.
The caption of the post read, "42, 43, 46?!", which refers to the 42nd and 43rd presidents of the US who were pictured alongside her and the number 46 probably indicates a speculative bid for office in 2020 or 2024.
We are not sure how serious Perry is about it though, but she would sure 'glam up' any presidential race.