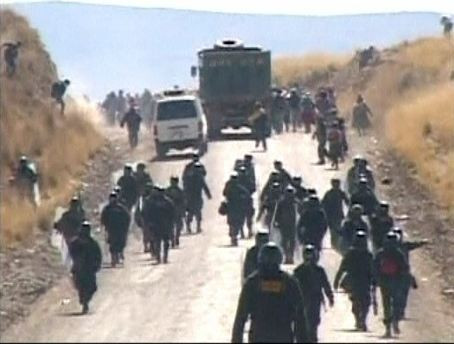 Peru's government has issued a 30 day state of emergency in an attempt to curb the anti-mining protest against Xstrata's Tintaya copper mine in the mountainous souther region of Cusco, Espinar province.
Two civilians have been killed, and at least 76 police officers injured, after clashes between protesters and police. Protesters had laid down roadblocks in order to isolate the mine. When police began clearing the obstacles, protesters started throwing rocks at them and set a public ministry vehicle ablaze. In response, police opened fire on protesters.
Florentina Huamani, a civilian involved in the protest, spoke of the abuse other women had suffered in the clashes:
"We are here in the struggle against all the bullets and all the bombs. Us women have gone head to head with the police and they have shamelessly kicked us and they have shamelessly beaten us with rocks."
Xstrata, the Swiss-based mining company, is the world's fourth largest copper producer. They have confirmed that despite the protests the mine is operating normally and that there is no danger of production halting.
Interior Minister Wilver Calle announced the action the government had taken to try and end the protest:
"To protect the security of all the residents in the area and the free transit of all Peruvians in the Cusco region, today, under a supreme decree, the government declares a state of emergency."
The emergency powers enacted in Espinar mean that civil liberties are suspended as special powers are given to the military and police in order to restore order to the province.
People are protesting against the mine because they claim the pollution released is contaminating local water supplies and sickening farm animals. Last August and September, an environmental study conducted by the local Catholic Church reported to find high levels of arsenic, copper and mercury in their soil and water samples. Protesters are now asking the company to further compensate by increasing the amount of operating profit they contribute to the local government from 3% to 30%.
Peruvian President Ollanta Humala has had to deal with various disputes in which at least 10 people have died since taking office in July 2011. This is the second time the Peruvian government has issued a state of emergency in the last six months, after violent protests in Cajamarca province in December 2011 over the Conga gold mining project.