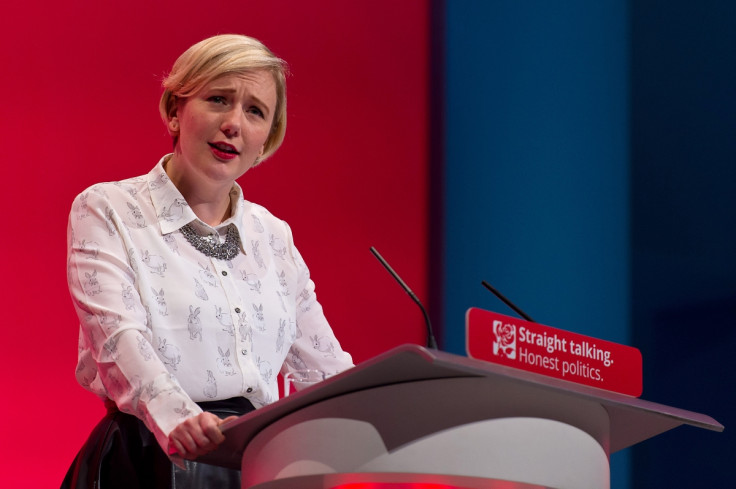 Three years ago, Stella Creasy became a direct target of internet trolls when she came out in support of the inclusion of women - namely Jane Austen - on British banknotes. After a wave of rape and death threats, the Labour MP for Walthamstow took her case to the social media company, demanding action to better protect female users from harassment. Soon afterwards, Twitter introduced a button to report abuse.
But while reporting abuse and blocking perpetrators is a short-term solution, Creasy says we need to urgently update sex and relationships education to properly challenge deeply-ingrained societal attitudes that condone and tolerate violence against women and girls.
"Let's put sex and relationships education on the national curriculum for every single school as a starting point," Creasy tells IBTimes UK. "We can change a lot of things. Change is possible. The fierce urgency of now is getting started, it's not whether or not it is possible - it is.
"I feel blessed to have been a teenager at school who didn't have the internet," Creasy says, speaking at a discussion held by the Fawcett Society.
The benefits of compulsory, age-appropriate sex and relationships education across Britain would be far-reaching - going further than helping to tackle online abuse at its root cause. "We're in a capital city where the number of rapes have gone up in the last five years, but the number of prosecutions haven't," Creasy adds.
Yet despite calls from campaigners to overhaul the UK's sex education programmes, no changes have yet been made. In February, education secretary Nicky Morgan rejected MPs' calls to make sex and relationships education compulsory in all schools.
Meanwhile, online abuse is getting increasingly worse. In May, Creasy was one of several female politicians to launch the cross-party Reclaim the Internet campaign in a bid to tackle the colossal scale of misogyny women face online. A study released alongside the campaign revealed that in the space of three weeks, the words "whore" and "slut" were used in 10,000 aggressive messages sent to 6,500 women in the UK alone. Shockingly, many of the perpetrators were women.
"That report was a snapshot, it was the start of a conversation about trolling," Creasy says. "I think one of the challenges the women's movement has always had to get over - which I think is a very patriarchal idea - is that this is about women singular, so you are either a woman or a man, and you are either for or against. But there are women who sustain the patriarchy, and there are men who can be allies."
While not absolving female trolls of responsibility, Creasy adds that it makes sense for women to adhere to sexist rhetoric after years of oppression. "We have grown up with the patriarchy, so it makes sense that some women will repeat it," she says.
Online abuse is a present-day issue fuelled by the same barriers which denied women the right to vote more than a century ago - vitriol and hatred bolstered by the patriarchy. "I see some of the battles I thought my mother and grandmother had won coming back," Creasy says.
But while 150 years have passed since the English feminist Millicent Fawcett presented the first suffrage petition to Parliament, men continue to outnumber women in the House of Commons by 140%. Female politicians like Creasy are challenging the status quo, but doing so leaves them in the firing line for internet abuse.
Earlier this week, Labour MP Tulip Siddiq said the trolling of female politicians is a direct affront to a new generation of outspoken and strong-willed women in Parliament. The Hampstead and Kilburn MP went on to point out she had received death threats and criticism for having her baby daughter while she was in her first term in Parliament.
If we continue to drag our feet on issues such as trolling, we risk dropping the ball on progress made by feminists over the last century.
"We have a big battle to go," Creasy says. "I feel like an inbetweener feminist because I grew up with the start of those opportunities that my mother and my father's generation had started to fight for in terms of equality, only to see those being contested and a whole new bunch of power imbalances coming forward."
Still, Creasy is positive. "Society is starting to change. It's not changing quick enough, we can make it change faster - but it isn't just up to women," she says. "It isn't up to us to come up with all the solutions, it's for everyone. The point is, the sooner we get started, the sooner we get there."