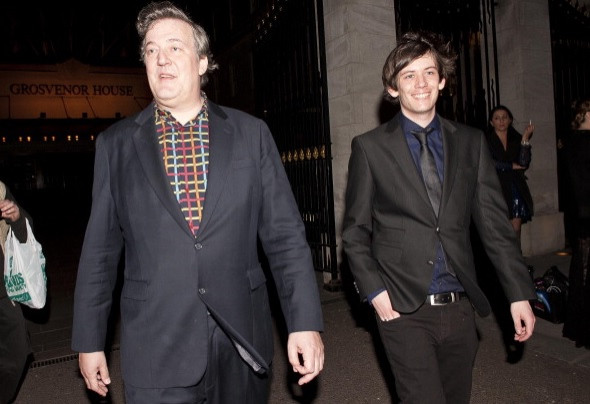 Stephen Fry may have only just got engaged but it looks like the comedian and writer is already playing the supportive husband.
The 57-year-old star made a surprise appearance at Cwmbran Magistrates Court in South Wales where his new fiancé Elliott Spencer was up on a speeding charge.
Spencer, 27, was in court to fight the speeding penalty he picked up driving more than 100mph on the on the A449 back in May 2014. The court heard the pair were running late to the Hay-on-Wye literature festival at the time.
The Southampton native was banned from driving for seven days and ordered to pay a £100 fine, £85 costs and a £20 victim surcharge.
Spencer's legal woes come just hours after Fry confirmed that they had given formal notice at a registry office in Norfolk before Christmas following a whirlwind romance which started in the summer of 2014. They went public with their relationship in November.
"I'm very very happy of course but had hoped for a private wedding. Fat chance!" the QI presenter told his 8.4 million followers.
However, the pair's celebrations were dented when Spencer scratched Fry's £150,000 Bentley Continental GT as he tried to manoeuvre out of the garage of Fry's London home. The soon-to-be newlyweds had been showing off their matching rhodium engagement rings to waiting press just before the scrape.
Although Fry reportedly insisted "it's nothing", he did take the helm as they headed out, with a sheepish-looking Spencer settling for the passenger's seat.