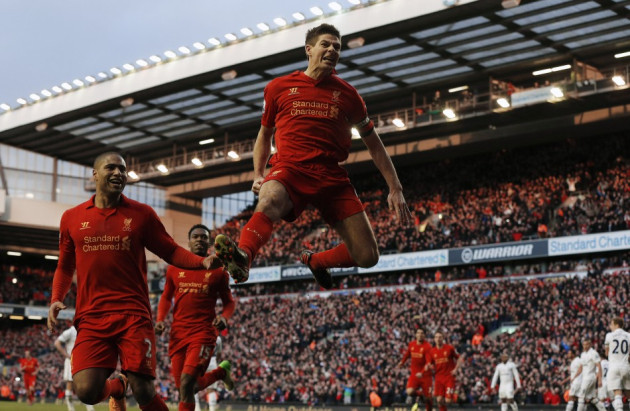 Liverpool captain Steven Gerrard has further committed himself to the club by signing a contract extension at Anfield.
The 33-year-old signed the extension as he prepares to begin his 16th season as a Liverpool player, before the club embark on their tour of the Far East and Australia.
"I think everyone knows what it means to me," Gerrard told the club's website upon signing the new deal.
"I've been here that long and so to extend, it is a big day for me and I'm really happy for myself and my family. It's great news.
"It lets me know the club thinks an awful lot of me and want me here.
"I'm glad it's all done and it's happened at the right time before the season, so I can just focus on playing as well as I can."
Liverpool lost long serving defender Jamie Carragher to retirement at the end of last season and Brendan Rodgers and the Reds hierarchy have been quick to ensure that the most decorated player still in the squad is retained as long as possible.
The England international once again proved his worth to the Merseyside club last season, remaining ever present in the starting XI in their Premier League outings up until the final two weeks of the season, when he was given the chance to rest and recover from a persistent shoulder problem.
The midfielder will have recovered from his injury in time for his own testimonial set to take place at Anfield on 3 August, where the Reds welcome the side who were on the receiving end of one of Gerrard's most memorable strikes in Olympiakos.
"It's fantastic for everyone - the club, Steven and the fans," the club's managing director Ian Ayre added.
"He is - and always has been - such a big part of Liverpool Football Club. Particularly in this day and age, it is rather unique to find a local player who has given his whole career to his club.
"We're pleased today to add an extension to his existing agreement and that keeps him here until the end of his career.
"We've said what we'll do in two years' time is review it again and see how happy Steven is. We seem to always be happy with him, so hopefully we'll just continue in that vein."
Since making his Liverpool debut in 1998, Gerrard has made 630 appearances for the Reds under seven different managers, scoring 159 goals in the process.