Liverpool manager Brendan Rodgers has called on the club's hierarchy to offer a new contract to captain Steven Gerrard.
The 32 year old's current deal expires in 2014 and discussions are yet to begin over a renewal for the born and bred Reds skipper.
After missing swathes of last season due to injury, Gerrard has played every minute of Liverpool's Premier League games this season and Rodgers is keen for the influential midfielder to sign an extension.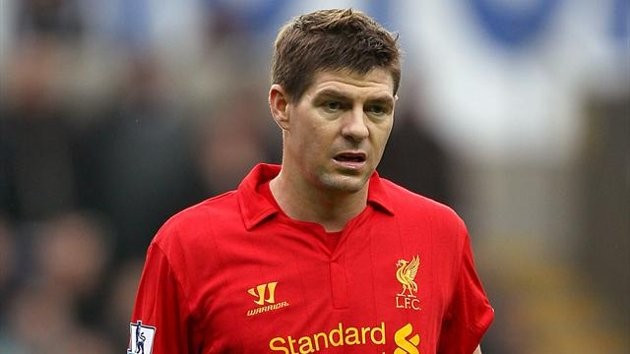 "Steven and I have spoken a number of times [about a contract], but as yet I don't believe anything has been done," he said. "His feeling the last time we spoke was get through this season and see how that goes.
"His focus is on really helping the group to go forward. There's no doubt that between now and the end of this season the contract will be looked at.
"The owners can see for themselves, they watch all the games from afar. They understand and I have regular dialogue with them.
"I can only feedback in terms of his qualities both as a player and as a leader of the club, so it's not like they don't get to know about it. Between now and the end of the season we will have a clear look at that [a contract] for sure."
"Steven Gerrard is a unique player," Rodgers added. "When he came on at Oldham [on Sunday] it was like someone had dropped him from heaven into the game. We went to a totally different level when he came on.
"Unfortunately at this stage I can't say that without Steven Gerrard we would be alright because I don't believe we would. This is a top, top player who gives so much quality but also enthusiasm."
Having won every major domestic and European honour available, bar the league title, Gerrard is regarded as one of Liverpool's greatest every players, his crowning moment coming in the 2005 Champions League final against AC Milan where he inspired his side to a second half comeback and their fifth European Cup victory.
The delay on Liverpool beginning negotiations with Gerrard will raise fears among supporters that the club will follow the ruthless streak taken by the likes Chelsea towards player over the age of 30.
Chelsea have allowed Didier Drogba to leave the club last summer, and appear happy to release Frank Lampard at the end of the season, with The Blues unwilling to offer two-year deals to their elder statesmen.