A growing campaign on social media sites is asking users not to "share" the video of the gruesome beheading of Time journalist Steven Sotloff, released by Islamic State (formerly Isis) and condemned around the world.
News of the video of Sotloff's death, which was circulated around the world within minutes of its existence being confirmed by the SITE monitoring service, was almost as quickly followed by pleas for people not to download, share or watch the sickening video - which seems to feature the same British killer.
Sharing site LiveLeak quickly announced they will not be allowing IS videos to be uploaded or shared: "They are aimed at advertising the IS message directly to the west. They are advertising, slickly produced pseudo snuff movies and we want no part in them should they come up."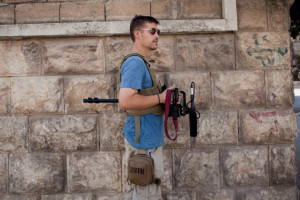 Twitter, YouTube and other sites do try and take down the videos as soon as they appear, but sadly, once online, it is practically impossible to delete it again. So now, via campaigns such as #ISISmediaBlackout, people are being asked not to watch the video at all - and thus deny Islamic State its most powerful propaganda tool.
The suggestion was previously made following the execution of James Foley on 19th August. Almost as soon as the video appeared people began asking others not to share images of Foley's death, but of his life, and particularly ones where he was doing his job as a widely-respected journalist:
"RIP James Foley. If any one is thinking about sharing the beheading video, a sober second thought is in order. #DontShare #ISISmediaBlackout"
Now, with Sotloff's death, once again many people are imploring others to circulate photographs of the journalist in happier times so that the propaganda value of the video for his killers is diminished. There has also been criticism of the mainstream media for appearing to glamorise young British Jihadists who have travelled to Syria and Iraq to join the group.
However other social media users believe that not to allow people to view such videos means they will be unaware of the horror of what is happening in Syria, Iraq and other war-zones. Some have even accused media outlets of censorship for not showing the videos in full.
One Twitter user wrote: "I don't agree with #ISISMediaBlackout. Sometimes people need be confronted with reality. People are more likely to care when there's images."