Liverpool winger Stewart Downing believes Luis Suarez can reach the 30-goal mark in the Premier League this season after his hat-trick helped beat Wigan Athletic at the weekend.
Suarez is now the division's top marksman having netted 21 goals, and with 10 games remaining will be aiming to become the sixth player in the league's history to net 30 in a season.
The Uruguayan is also among the contenders for the PFA Players' Player of the Year award, and Downing says Suarez could scoop a myriad of close season individual awards.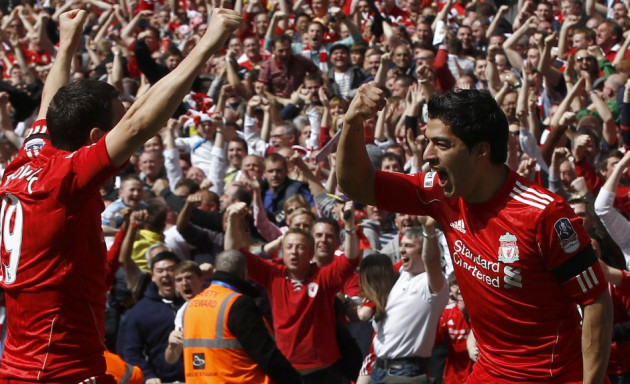 "Luis is on fire at the minute," Downing said. "He's scoring all different types of goals and if you have a striker like that you've always got a chance of winning games
"To get 21 goals in 27 games in this league is frightening. We've still got 10 games to play so he could easily get 30-odd goals.
"He must have a big chance for the Player of the Year awards. Van Persie, Gareth Bale and him have all had great seasons. It's a hard choice but it should be judged just on performances on the field.
"You can't fault Luis for that. Stuff has gone on in the past but he gets on with it. He does his job brilliantly."
Andy Cole became the first player to reach the 30-goal mark in 1993/94, which is widely considered to be the gold standard in terms of domestic goal scoring, but during an era where the Premier League contained 22 teams, with Alan Shearer completing the feat a season later.
Three players have reached the 30-goal target in the 38-game era of the Premier League, Kevin Phillips of Sunderland in the 1999/00 season and more recently Cristiano Ronaldo while at Manchester United in the 2007/09 campaign and Robin van Persie last season at Arsenal.
Suarez's form has been a significant factor in Liverpool's season, a campaign dominated by inconsistency, with the club seventh with 10 games left.
But victory at Wigan was The Reds' third win on the bounce and Downing admits the club's form is coming together at just the right time.
"It think it's coming together. We've got 10 games to go and we've got to keep winning games," Downing said.
"There's no point saying we want to finish fourth, fifth or sixth. Anything could happen if teams slip up.
"We need to keep chipping away and focus on Spurs. They have some good offensive players but we played them off the park at White Hart Lane earlier in the season and how we lost I just don't know. The way we're playing at the moment I'm confident we can get a win."