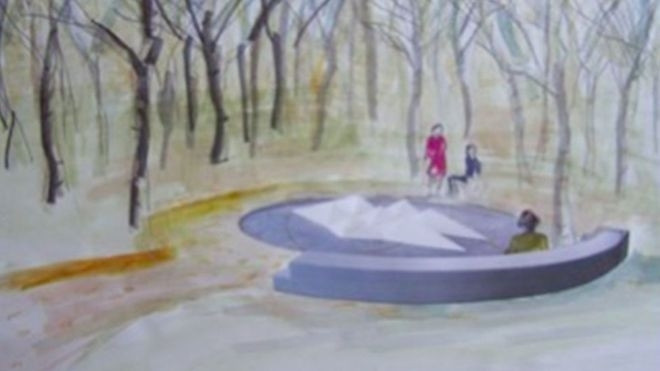 The design of a memorial dedicated to UK victims of overseas terrorism over the last 30 years has been revealed.
The work, which will commemorate the victims of British terror attacks abroad, is called Still Water. It will be installed at the National Memorial Arboretum, in Staffordshire, by the end of the year.
Parliamentary Under-Secretary of State for Defence People and Veterans Tobias Ellwood said: "This memorial shows our recognition, as a nation, of the loss that has been suffered by British families over a number of years, and will stand for those events that, sadly, are likely in future years."
The memorial is made of a concrete ellipse and features a hidden pool. The structure will be sited within a copse, with pathways leading up to it made from "natural materials" so that a "feeling of discovery is enhanced", the government said.
Ellwood added: "My hope is that this memorial will become a peaceful and contemplative site, offering solace and comfort to those affected by the terrible terrorist events that we have seen taking place overseas, and impacting on British citizens."
The memorial was first proposed by David Cameron, then prime minister, in July 2015.
The sculpture was chosen by an independent panel, chaired by Conservative peer Baroness Lynda Chalker, after a consultation with a number of families who had lost loved ones through overseas acts of terror.
The structure was designed by Alison Wilding and will be built by sculptor Adam Kershaw.
In a joint statement the artists said: "We are thrilled to have been chosen to make this memorial and have been encouraged by the positive feedback from the families and others who took part in the selection process."
Belinda Green's husband Stephen was killed in an attack on an Algerian gas plant in 2013.
She said: "Still Water represents the calm after a storm. For me it reflects how the trauma of the event for any person who suffers loss will eventually lessen but not be forgotten. I like the openness of this design very much, the ability to look out to the surroundings in any direction, and importantly that its openness will not exclude anyone."
The inscription on the memorial, which will be formally dedicated next spring, will read: "In remembrance of all those who have been affected by terrorism overseas."