Buddha would have helped Rohingya Muslims fleeing violence in Buddhist-dominated Myanmar, the Dalai Lama has said in what is believed to be his first comments on the current crisis in the region.
The Buddhist spiritual leader made the remarks days after the UN estimated that at least 270,000 people from the Rohingya minority have fled Myanmar's Rakhine state and crossed into Bangladesh in just two weeks.
"Those people who are sort of harassing some Muslims, they should remember Buddha," the Dalai Lama was quoted by AFP as saying. "He would definitely give help to those poor Muslims. So still I feel that. So very sad."
Rohingya Muslims in Myanmar (also known as Burma) are regarded as stateless people and unwelcome migrants from Bangladesh. They live in segregated conditions in the country and have been been dubbed as one of the world's most persecuted ethnic minorities.
It was previously estimated that at least one million Rohingya lived in Myanmar. However, Rohingya routinely flee the country to escape alleged persecution from the state and the current number of people still in Burma is unknown.
The latest exodus started in August, after Rohingya insurgents attacked police posts, killing at least five people. The military retaliated in what was described as "clearance operations" to identify and root out any fighters found in villages across Rakhine.
However, UN Secretary-General Antonio Guterres warned of possible ethnic cleansing being underway in the country, urging the international community to step up its efforts to address what could become an "humanitarian catastrophe".
While the UN chief condemned attacks by Rohingya insurgents, he also said the UN receives "constant reports of violence by Myanmar's security forces, including indiscriminate attacks".
Guterres also called on the Burmese government to immediately give Muslims either nationality or legal status, so that they can live a normal life in the state.
Myanmar's government, led by Nobel Peace Prize-winner Aung San Suu Kyi, has often dismissed allegations of violence against the Rohingya and accused international media of misreporting the situation.
Suu Kyi has been increasingly urged to address the current crisis, with some calling for the Nobel Peace Prize she won in 1991 as a champion of democracy to be revoked due to her failure to speak out against violence in her country.
In a recent statement issued by her office on Facebook, Suu Kyi said the government had "already started defending all the people in Rakhine in the best way possible".
She also blamed "terrorists" for "a huge iceberg of misinformation" on the violence in Rakhine and warned against misinformation on the situation.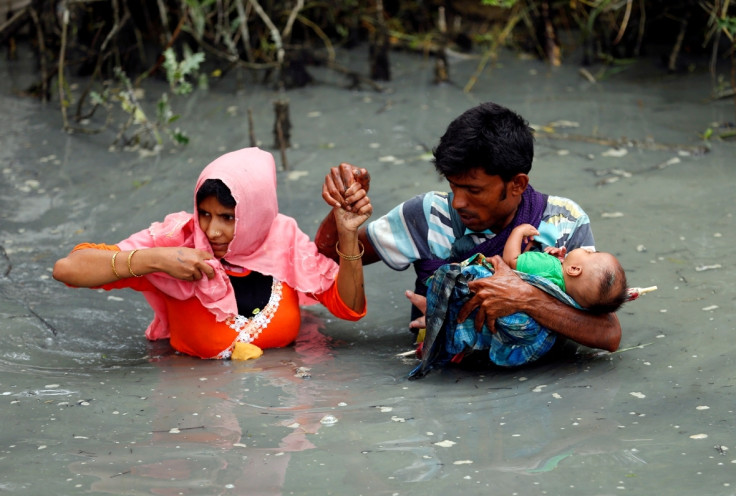 The latest round of violence and exodus came months after rights groups accused Burmese troops of violence against Rohingya people in Rakhine.
Soldiers had been deployed following a series of attacks blamed on Rohingya extremists. Shortly afterwards, Human Rights Watch (HRW) released images purportedly showing 1,250 destroyed buildings in three villages in Rakhine.
The organisation accused soldiers of raiding Rohingya villages and carrying out extrajudicial killings, and called for a UN-sanctioned investigation.
Myanmar dismissed the allegations of violence.
In June, Burmese authorities refused entry to UN investigators who wanted to conduct an investigation into allegations of violence, rape and torture against Rohingya.