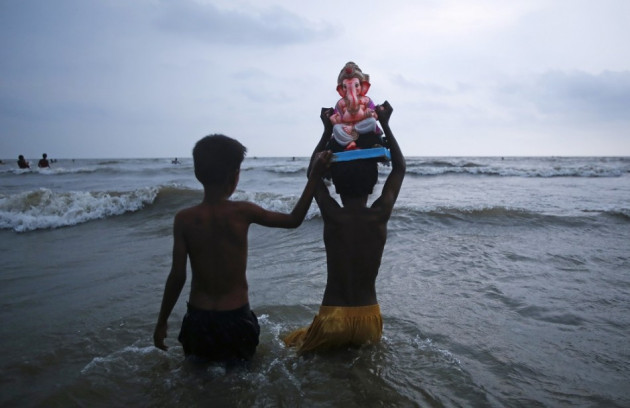 Stingrays have attacked Ganesh devotees in Mumbai during an immersion ceremony as part of the Hindu festival Ganesha Chaturthi.
Fifty seven people were hospitalised with stings after entering the water at Girgaum Chowpatty to immerse idols.
Devotees were swimming in the water to bid farewell to Lord Ganesha as part of the annual festival. However, they quickly began complaining of shooting pains in their hands, feet and legs, with many developing rashes and numbness.
They were taken to nearby hospitals were they were treated with painkillers and antibiotics, said a doctor from the Nair Hospital, where around 40 people were admitted.
Ajit Patil, the shakha pramukh overseeing the festival at Chowpatty, said: "We called the police and fire brigade to ascertain what was wrong. That's when we realised that stingrays had come on the shore."
Rahul Naik, 18, was one of those attacked by stingrays. He told mid-day.com the pain was excruciating: "I was holding our small Ganpati idol. A few minutes after stepping into ankle-deep water, I felt something bite my left foot. I didn't even get to see what it was, as the pain was so agonising.
"At first, I thought a crab had bit my leg. It felt like a jolt of electricity ran up my leg after I was bit, but I didn't get to see it."
Another sufferer, 30-year-old Rajeev Sangle, added: "It was around 6.30 pm when I was knee-deep in water for immersion.
All of a sudden, I felt this thin tentacle-like thing pierce my ankle. The pain was so intense that I almost fainted. I started bleeding profusely. I didn't get to see what had attacked us, even though there was still daylight.
"I take part in the idol immersions every year and this is the first time we have experienced something this unpleasant."
Dr M Shah, from the Nair Hospital, said all the devotees admitted were in a stable condition and are being kept under observation, adding that all are expected to make full recoveries.
Stingrays are not aggressive animals and normally swim away when threatened, but they flick up their venomous tails when stepped on in defence.
A survey by the Central Marine Fish Institute and the fisheries department of the state government said they found stingrays, jellyfish and eel in the water.
Suhasini Nagada, from the Nair Hosptial, told the Mumbai Mirror that this was the first time stingrays had been found along the sea shore during immersion.
The Brihanmumbai Municipal Corporation banned children from entering the water at Chowpatty and provided boats and for people to immerse idols from. People still planning to enter the water were advised to wear gum boots for protection.