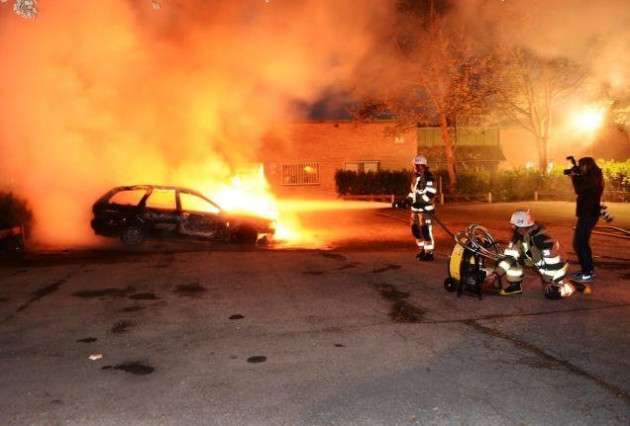 Three police officers were injured as hundreds of youths rampaged in the suburbs of Stockholm for a fourth night in succession, burning down a restaurant and torching more than 40 cars.
The rioting looks set to stretch into a fifth night, shattering Sweden's peaceful image as resentment at youth unemployment and police brutality boils over.
Rioters threw stones and shone green laser pointers at emergency services. A police station was set on fire in the southern suburb of Rågsved, where several suspects were being held.
In the southern city of Malmo, police said a further two cars were burned.
The unrest began on Sunday in the deprived suburb of Husby, to the north-west, home to a large immigrant population, with the riots then spreading to the south of the city, where the worst of the violence occurred.
The disturbances were sparked by the killing by police of a 69-year-old man wielding a machete in Husby earlier this month, which prompted accusations of police brutality.
'Every kind of people'
Stockholm police spokesman Kjell Lindgren said the rioters were a "mixture of every kind of people".
"We have never had this kind of riots before in Stockholm, not this amount of riots and not this number of hot areas," said Lindgren, who claimed groups numbering from five to 100 people had been seen taking part in the violence.
Prime Minister Fredrik Reinfeldt said: "It's important to remember that burning your neighbour's car is not an example of freedom of speech, it's hooliganism."
Ten attacks were reported in the north-western suburbs of the capital on Wednesday night, while between 20 and 30 cars were burnt in southern parts of the city.
Firefighters struggled to contain the fire at the restaurant in the southern suburb of Skogas, against a barrage of missiles hurled by the crowd.
Selcuk Ceken, a youth worker in the district of Hagsatra, said 40-50 youths threw stones at police and smashed windows before fleeing. "It's difficult to say why they're doing this," he told the Guardian. "Maybe it's anger at the law and order forces, maybe it's anger at their own personal situation, such as unemployment or having nowhere to live."
'There is no answer'
Five people have been arrested since Sunday, police said, but no arrests were made on Wednesday night as their priority lay in dispersing the mobs and providing access to the fire brigade.
"My colleagues say the people on the streets are a mixture of every kind of people you can think of," said Lindgren. "We have got Swedes, we have got very young people, we have got people aged 30 to 35. You can't define them as a group. We don't know why they are doing this. There is no answer to it."
Prosecutors were investigating complaints about the conduct of at least one one police officer, Lindgren confirmed.
"We see a society that is becoming increasingly divided and where the gaps, both socially and economically, are becoming larger," said Rami Al-khamisi, co-founder of Megafonen, a group that works for social change in the suburbs. "And the people out here are being hit the hardest. We have institutional racism."
Rouzbeh Djalaie, editor of Norra Sidan newspaper, said: "The reason is very simple. Unemployment, the housing situation, disrespect from police. It just takes something to start a riot, and that was the shooting."
He said youths are often stopped by police in the streets for identity checks. Officers have been accused of calling local youths "apes" during the riots.
"I understand why many people who live in these suburbs and in Husby are worried, upset, angry and concerned," said Justice Minister Beatrice Ask. "Social exclusion is a very serious cause of many problems, we understand that."