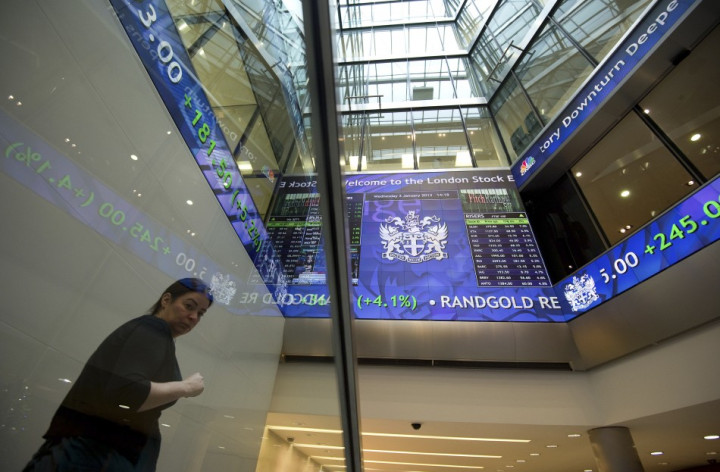 European markets open higher on Tuesday after lower-than-expected US home sales data fuelled hopes of continued monetary stimulus by the US Federal Reserve.
Meanwhile, the Duchess of Cambridge, Kate Middleton's royal baby is tipped to boost the British economy.
The Stoxx Europe 600 index opened 0.4% higher to 301.44
Britain's FTSE 100 opened 0.4% higher.
Germany's DAX and France's CAC 40 opened 0.3% higher.
Spain's IBEX was up 0.96% while Italy's FTSE MIB was up 0.41% in opening trade.
In the UK, the birth of the royal baby is expected to boost the UK economy as a nation celebrates and buys baby products and royal memorabilia. Linked-in retail sales are expected to jump by about £243m (€283m , $373m) between 1 July and 31 August, 2013, according to the Centre for Retail Research.
Prince William's wife Kate Middleton gave birth to a baby boy on Monday.
In Spain, Prime Minister Mariano Rajoy said on Tuesday he will testify in parliament to address allegations that he received tens of thousands of euros from a slush fund held by his party treasurer.
Stock markets across Europe were mixed on 16 July on the back of the bribery scandal surrounding Rajoy
Rajoy has rejected calls for him to resign. Former Popular party treasurer Luis Barcenas reportedly told Madrid judges that he gave Rajoy more than €45,000 in cash between 2009 and 2010..
In company news, British firms Premier Foods and Provident Financial will put out their interim earnings reports. Financial derivatives trader IG Group Holdings will release preliminary annual results during the day. Italian energy firm Edison and Dutch telecoms firm KPN will put out second quarter earnings today.
In Asia and the US

In Asia, the Japanese Nikkei finished 0.82% higher on Tuesday. Australia's S&P/ASX index closed 0.16% higher and South Korea's Kospi closed 1.27% higher.
Earlier in Asia, stocks hit six-week highs on positive cues from China and Japan, the world's second and third largest economies respectively.
The gains came after Beijing News quoted Premier Li Keqiang as telling the State Council, China's cabinet, that policy makers would ensure economic growth does not slip below 7%.
Chinese Vice-Premier Zhang Gaoli reportedly told investors in Russia that his government is committed to steering China away from investment and exports-led growth and towards a consumption-driven economy. He also said that policies would be revised to tackle any lingering slowdown.
China's foreign exchange regulator said that the country is not seeing "any signs of active and sudden foreign capital withdrawals", despite signs of funds exiting emerging markets. Investors expect the US Federal Reserve to taper QE from September.
China's new leaders are more interested in reforming the world's second largest economy, than stimulating it, but economists believe that they will allow growth to drop to 7%, before rising.
China's economy is slowing down but growth rates are still significantly higher than those in Europe. GDP grew by 7.5% in the April-to-June second quarter but expanded by 7.7% in the previous quarter. This is 2% lower than the final quarter of 2012.
In Japan, the government upgraded its view on growth for a third successive month in July, saying "the economy is steadily picking up and (that) it shows some movement towards a self-sustainable recovery".
Prime Minister Shinzo Abe's party now has more power to roll out reforms, after its election victory.
On Wall Street, indices logged modest gains on Monday as lower-than-expected home sales data weighed on the markets.
The Dow finished 1.81 points higher at 15,545.55. McDonald's led the blue-chip laggards. The S&P 500 ended 3.44 higher at 1,695.53, a fresh record high for the index, while the Nasdaq closed 12.77 points higher at 3,600.39.
The National Association of Realtors said that home sales fell 1.2% to an annual rate of 5.08 million units in June.
However, June's sales were the second highest since November 2009.