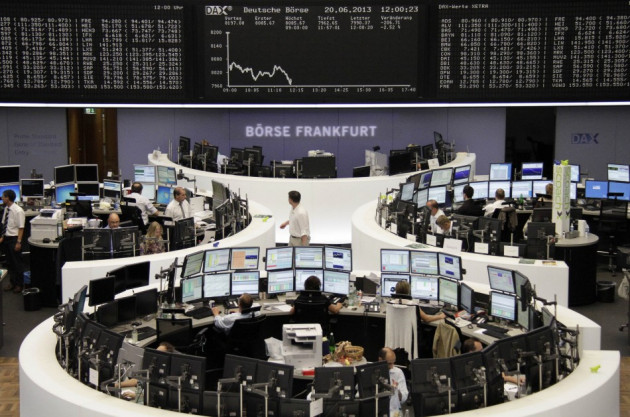 European markets opened slightly higher on Friday after Asian markets were pulled down by the sell-off on Wall Street, as investors fear the US Federal Reserve could begin trimming its asset buys later in the year.
The Stoxx Europe 600 index opened 0.1% higher at 284.00, while Britain's FTSE 100 and DAX 30 opened 0.3% higher each. France's CAC 40 opened 0.5% higher.
Spain's IBEX 35 was trading 0.15% higher in opening trade, while Italy's FTSE MIB gained 0.39% in early deals.
Major European indexes logged their worst single-day plunge since 2011 on Thursday, following bad news from the US and China.
On Wednesday, speaking at a press conference in the US after the two-day Federal Open Market Committee (FOMC) meet, Federal Reserve Chairman Ben Bernanke said the central bank could begin to reduce its bond-buying programme later this year if the US economy continues to improve, as Fed officials expect it to, and could end its purchases by mid 2014.
The Fed's $85bn (€64.3bn, £54.9bn) a month bond-buying programme has stimulated the US economy and the markets the world over for a while now.
The FOMC, the Fed's powerful rate-setting committee, concluded its fourth meeting of the year on 19 June.
"Based on the chairman's comments and our unemployment rate forecast, we now expect a reduction in the pace of asset purchases to $70bn per month at the September meeting ($35 billion in Treasuries and $35 billion in agency MBS)," said Dean Maki, the chief US economist at Barclays.
"Based on our outlook for the unemployment rate to fall to 7.0 percent in Q1 14, we expect asset purchases to be concluded by March 2014, a bit earlier than the mid-2014 expectation the chairman indicated in the press conference," Maki said.
European investors will be following developments at the EU finance ministers meeting in Luxembourg, where member nations will carry on discussing how and when Europe's bailout fund can rescue troubled banks.
On 20 June, Markit Economics data showed that manufacturing activity in the eurozone has improved in June, indicating a further stabilisation in the sector. But the development is unlikely to stop the single-currency region from posting negative growth in the second quarter.
Industrial revenues in recession-hit Italy dropped 7.2% in April, on an annual basis, according to Italy's statistics office Istat. The Eurozone's third-biggest economy has been stuck in recession since mid-2011, forcing thousands of companies to shut down and driving up unemployment in the process.
Elsewhere in Europe, The Swiss National Bank (SNB) said on Thursday it has kept its monetary policy unchanged, as it is of the view that the Swiss franc is overvalued. But low interest rates have boosted the mortgage market and the country is now facing an overheating property market.
In company news, UK-based low-cost regional airline operator Flybe Group and German real estate developer TK Development will both put out their earnings report during the day.
In Asia the Japanese Nikkei rebounded, ending 1.66% higher at the end of day's trade on 21 June. South Korea's Kospi finished 1.49% lower, while Australia's S&P/ASX closed 0.41% lower.
Earlier in Asia, equities recovered from their sharp opening losses, but continued trading in the red in the morning session on Friday, following a sell-off on Wall Street where indices were pulled down by fears that the US Federal Reserve could begin trimming its asset buys later this year.
However The People's Bank of China's (PBC) 'window guidance' to major state-owned banks, asking them to restart funds supplies to ease the liquidity crunch in the world's second-largest economy, pacified hassled money markets.
On Wall Street, indices tumbled on 20 June, and ended lower following Fed chief Bernanke's comments.The Dow finished 2.3% lower or 353.87 points to 14,758.32. All 30 Dow components entered the negative territory.
The Nasdaq Composite ended 2.3% lower or 78.57 points to 3,364.63. The S&P 500 index ended 2.5% lower or 40.74 points to 1,588.19. The index has 10 major industry groups and all 10 finished lower.