'Stop walking your cat on a lead' RSPCA tells pet owners
Increase in cat walking comes as well-meaning owners try to give their pets a taste of the great outdoors.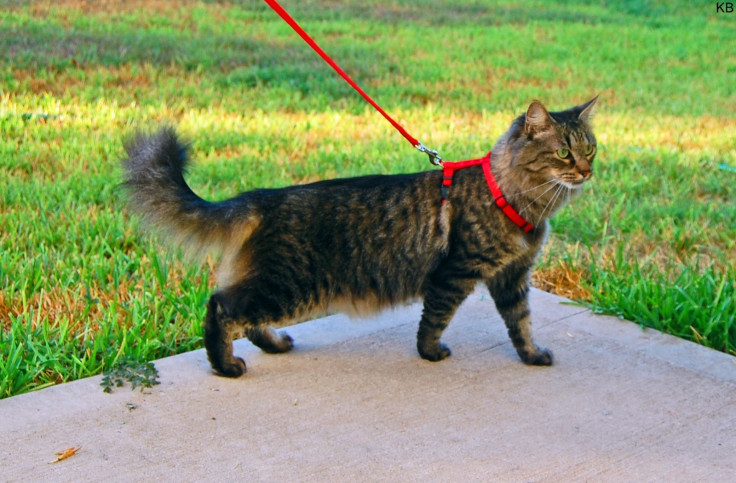 A growing trend which sees people take their cats for walks on leads could be causing the animals increased distress, the RSPCA has warned.
Pictures of pet owners walking their cats through city centres, on public transport and even on mountain hikes have become hugely popular on social media.
Some cat-lovers say using the specialised harnesses have allowed those animals normally cooped up inside for long periods to explore the outdoors safely and without fear of getting lost or running away.
But the RSPCA says the practice could be doing more harm than good.
They say cats are generally more territorial than dogs and so are likely to get more agitated when taken into new environments.
"A sense of control is very important to cats and being walked on a collar or harness prevents them from having control," a spokesman for the charity told The Telegraph.
"It may be more difficult for them to be able to move away or hide from anything which might scare or worry them. Therefore the RSPCA wouldn't recommend that cats are walked outside in this way.
"Some loving owners who have cats that live indoors-only may feel that walking cats outside on a harness or collar is beneficial for their welfare.
"However, we would generally suggest that for most cats taking steps to provide an indoor environment which has plenty of opportunities to be active and mentally stimulated is likely to be more beneficial for the cat's welfare than walking them on a lead."
Cats Protection, a UK-based charity, had also spoken out against the practice, saying that while some cats can be trained to accept wearing a harness, many "do not react well to being restrained."
"Cats are free-roaming creatures and they like to explore their environment at their own pace and choose areas where they feel safe," the charity says. "This ensures they can easily access suitable hiding places if they feel threatened."
But not everyone agrees. Laura Moss is the founder of the website Adventure Cats, which provides cat walking tips and runs a hugely popular Instagram account featuring pictures of felines exploring the great outdoors.
"Taking a cat outside can be great for a cat's mental and physical health," Moss said. "Many indoor cats simply don't receive enough stimulation and they may suffer from obesity or boredom-related behavioral problems."
© Copyright IBTimes 2023. All rights reserved.