Fewer stores are closing on Britain's high street and the overall churn rate is lower, according to PwC. Despite a surge in online sales, the economic recovery means "only" 14 stores are closing each day, the lowest rate since 2011.
Mike Jervis, retail specialist at PwC, told IBTimes UK the study suggests the UK economy is recovering strongly. "The fact that coffee shops are still up there in terms of high street openings indicates that consumers are confident and happy to spend," he said.
"Churns are often much higher, which has a lot to do with insolvencies. If you took HMV, Game, etc, they very quickly left vacant shops. The insolvency rate has been much lower this year. You have clothing retailers Bank and USC, but that is about it."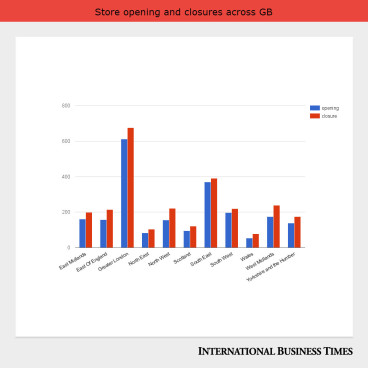 The competition from online stores is often cited as the reason for shop closures. However, according to Jervis, online sales growth is slowing down and overall consumer spending is increasing. He said: "The dramatic impact on store numbers of the 'double whammy' of channel shift and fewer store visits is abating for now and we are returning to a more natural level of churn."
According to PwC, the original high street is a thing of the past, with specifically smaller shops and businesses diverting from the big malls and centres. Big stores are, however, still keen on staying in the high street.
"The sustainable new businesses occupying our high streets are often leisure or services based – more about enjoying the experience than browsing or buying a product. The near-term winners and losers are on- or off-trend – for example, health foods are one of the sectors thriving, but payday lending is suffering. High streets are in a constant state of evolution and that's not going to change."