Strictly Come Dancing Star Susanna Reid Described as 'Mumsy' as Judges Get Tough
Judges Get Tougher on Strictly Come Dancing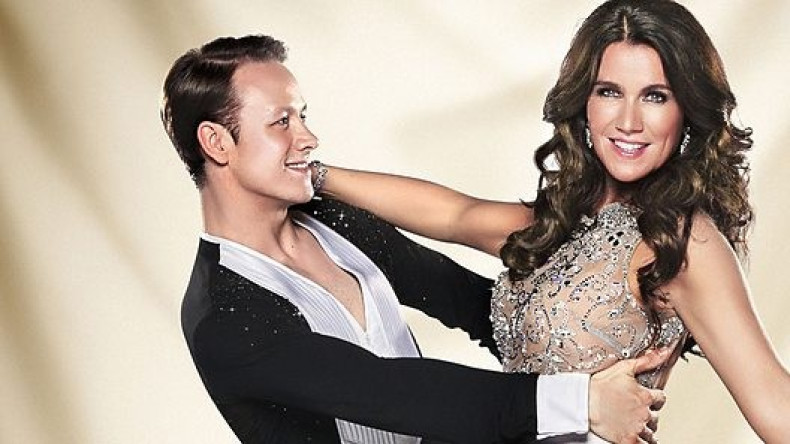 Just four weeks away from the final and tensions were running high on this week's Strictly Come Dancing.
Things got off to a shaky start with presenter Bruce Forsyth stumbling over his lines, Brendan Cole talking back to the judges and audience favourite BBC Breakfast presenter Susanna Reid being described as "Mumsy."
After last week's show-stopping Blackpool blitz, nerves seem to be kicking in, as the remaining eight couples battled it out on the dance floor. And with pressure mounting the judges are getting tougher on the talent.
Dancing the Cha Cha with dance partner Kevin Clifton, to a sultry soul rendition of the Elvis classic Hound Dog, Reid set the floor on fire, but failed to wow the judges.
As Len Goodman explained: "We're getting down to the nitty gritty ... and things we've overlooked, we're going to be picking up now." Summing up Reid's performance he said it was "acceptable, but it wasn't exceptional."
Not one to hold back, the show's Mr.Nasty, Craig Revel Horwood said: "It did not pop, it did not zing, it was all a little bit mumsy."
Responding to the judges comments Reid replied: "There's nothing wrong with being mumsy when you've got three boys." And after her spectacular performance in Blackpool, the 42-year-old BBC Breakfast presenter conceded it was not her night. "Last weekend was absolutely phenomenal, but with the Cha Cha I knew there was no chance of that," she said.
The usually flawless Sophie Ellis-Bextor and partner Brendan Cole didn't escape the judges scrutiny either, with what should have been a steamy Rumba, being dismissed as a damp squib, despite getting a standing ovation from the audience
Goodman said: "It's a very, very tricky dance. I loved some of the shapes. It just lacked a little bit of flair. It didn't have enough chemistry for me." According to Bruno Tonioli the performance needed sexing up. "It was so pretty. It was almost balletic, but I like my Rumba a bit raunchier."
But Ellis-Bextor's dancing partner Brendan Cole was not about to take the criticism lying down.
"A lot of people think Rumba is about sex," said Cole. "This is about intimacy and I don't want to give filthy, dirty rumbas." Speaking to Tess Daly after the performance he added: "I'm over the 'we need more performance'. That was a performance."
Scoring a respectable 31 points, The Murder on the Dancefloor singer laughed off the judge's comments saying: "It was the sort of Rumba my husband felt happy with me doing."
Doing his best to ease the dented egos of the dancers, Forsyth told the judges: "You are being a bit stricter because we are facing the fatal four weeks."
Find out who faces the dreaded dance-off on Strictly Come Dancing's Results Show tomorrow (23 November ) at 7.20pm.