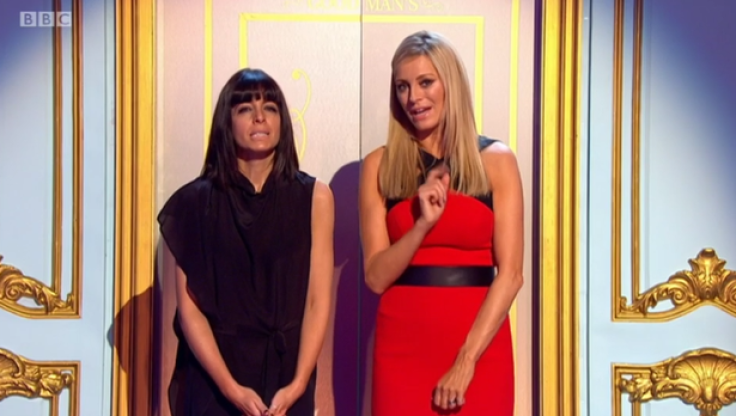 Strictly Come Dancing has not been short of nail-biting and cringe-worthy drama this series. Viewers have come out in defence of the show's co-presenter Tess Daly after receiving online criticism following her onscreen tiff with head judge Len Goodman on Saturday night's show (22 October).
Sunday night's results show – whereby Lesley Joseph was eliminated – saw Strictly viewers take to social media sharing site Twitter to comment negatively on the 47-year-old presenter, who has been on the show since 2004.
One person tweeted: "God I really can't stand Tess Daley - who voice is on the same level as nails scratching a blackboard #Strictly."
Another added: "Not sure whats worse , the lines that are read by Tess Daly or Tess Daly, surely Anton's turn next year with Claudia #Strictly," amongst other comments.
The condemning came one night after Daly's awkward exchange with judge Goodman – who is leaving the show after this series.
Just minutes into the programme after Judge Rinder's dance, Goodman was dismissive of the presenter. When first-up Rinder finished his dance and stood before the judging panel, Daly asked Goodman for opinion on his performance.
She asked the four judges: "Did he impress you?" before Goodman turned to face Tess looking unimpressed, replying: "I don't know what you said so I can't answer that."
Maintaining her professionalism, Daly asked again calmly: "Did he impress you, darling?"
Goodman insisted he could not understand Daly, prompting fellow judge Craig Revel-Horwood to quietly explain. Goodman then turned to Judge Rinder and showered him with praise on his routine.
The awkward exchange did not go unnoticed to those tuning in at home – and amid the online criticism, many were quick to stick up for the blonde-haired presenter.
One person wrote: "I don't get why Tess Daly is given such a hard time, she is professional and holds the show together #strictly", while another put: "why do people find it so easy to insult another person on social media? Poor Tess Daly. I don't watch Strictly, but it's not on."
A third wrote to the star: "you will always be a national treasure to me in terms of great tv presenting from #strictlycomedancing to even smtv live in past".
Many people weren't so nice, with a lot of viewers commenting on her presenting skills. One viewer wrote: "Wish Tess Daly could keep her bony claws off the celebrities, as they have danced she grabs their hand, puts her arm around them, YUK...." as another added: "Could @TessDaly be any more patronising to the dance off couples if she tried? #bbcstrictly".
The drama appears to be working for the show's popularity, with the results show the most watched programme on television on Sunday (23 October) – peaking at 10.6m viewers and averaging at 9.7m.
Strictly continues next Saturday at 6.45pm.