On International Women's Day (8 March), women in Northern Ireland and the Republic of Ireland are going on strike to protest against the draconian abortion laws in their respective countries.
In both the North and the Republic, having an abortion is a criminal offence which carries the maximum sentence of life in prison. There is no exemption for women who terminate a pregnancy resulting from rape or incest.
On average, 11 Irish women travel to Great Britain every day to access safe termination services, according to the Abortion Rights Campaign (ARC). Campaigners say the British system can no longer support the overwhelming demand from Irish women.
Marie Stopes International, the biggest abortion provider in England, recently announced that they will begin turning Irish women away from its clinic as they have to prioritise women referred through the NHS.
Pro-choice activists have organised the nationwide strike in the hope that the government will call a referendum to repeal the Eighth Amendment which grants a foetus the same rights as a pregnant woman.
Today, women of all ages in the North and the Republic, as well as in England, Scotland and Wales, are taking part in the Strike 4 Repeal. By refusing to go to work and carry out chores, they are putting pressure on the government to reform the current legislation and showing their solidarity for women who have had to leave the country to have an abortion. Women are encouraged to wear black clothes or a black armband in protest and stay home from work.
The organisers argue that thousands of women choosing to withdraw from the workforce and refusing to do chores will "highlight the contribution that you and millions make every day to a country where we do not have access to basic healthcare."
A statement on the campaign's Facebook page reads: "Every person who has an abortion has to take at least a day, whether to travel or stay at home. Use this day to stand in solidarity with them, and demand change."
More than 3,500 people have said they are joining the strike on the campaign's Facebook event page.
The campaign organisers believe the strike will achieve its goal, pointing towards the success of last year's strike in Poland which resulted in parliament rejecting an anti-abortion bill. The immense public pressure – 98,000 people gathered to protest the restrictive legislation – led to the bill being voted down in Parliament three days after the protest.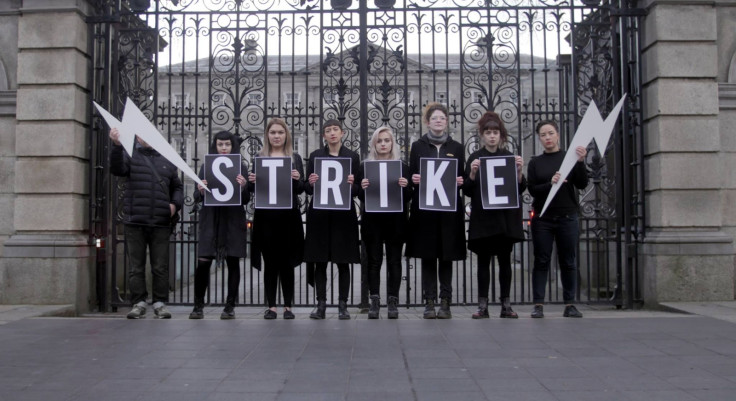 Public opinion in favour of abortion law reform
Campaigners might have to wait a while for a complete repeal of the Eighth Amendment. More people are in favour of reforming the current legislation rather than repealing it completely, according to a recent poll of 1,200 voters aged 18 and above, conducted by Ipsos MRBI for the Irish Times, published on 4 March.
On the question of repealing the 8th Amendment:
38% said they would like to see the current law replaced with an amendment that allows greater access to abortion, in the cases of rape, incest or child abuse;
28% said they wanted to see the constitutional ban removed completely;
16% said the 8th Amendment should not be removed;
6% did not agree with any of the above; and
13% did not know where they stood on the issue.
The majority (76%) agreed that abortion should be legal when a woman's life is in danger, while 63% said it should be allowed when a women's health is at risk. 77% of voters said that abortion should be legal in the cases of rape, incest or child abuse.
Women in Northern Ireland are also striking against the restrictive abortion laws. The 1967 Abortion Act, which established legal abortion in the UK, has never applied to Northern Ireland. Access to abortion services is only permitted if a woman's life is at risk or if there is a permanent or serious risk to her health. It is illegal for a woman to have an abortion in the cases of rape, incest or fatal foetal abnormalities.
Public opinion in Northern Ireland is in favour of a major overhaul to the abortion law. According to a poll of 1,000 people over 16 countries conducted by Amnesty International in September 2016:
72% of people support the legalisation of abortion in the cases of rape, incest and when the foetus will not survive outside the womb.
67% said abortion should be available in cases of fatal foetal abnormality. 17% were against legal abortion in this case.
58% said abortion should be decriminalised and that there should be no criminal penalty for women who have abortions in Northern Ireland. 22% were opposed to this change.
59% said there should be no criminal penalty for doctors and medical staff who assist women in having abortions. 21% disagreed with this reform.