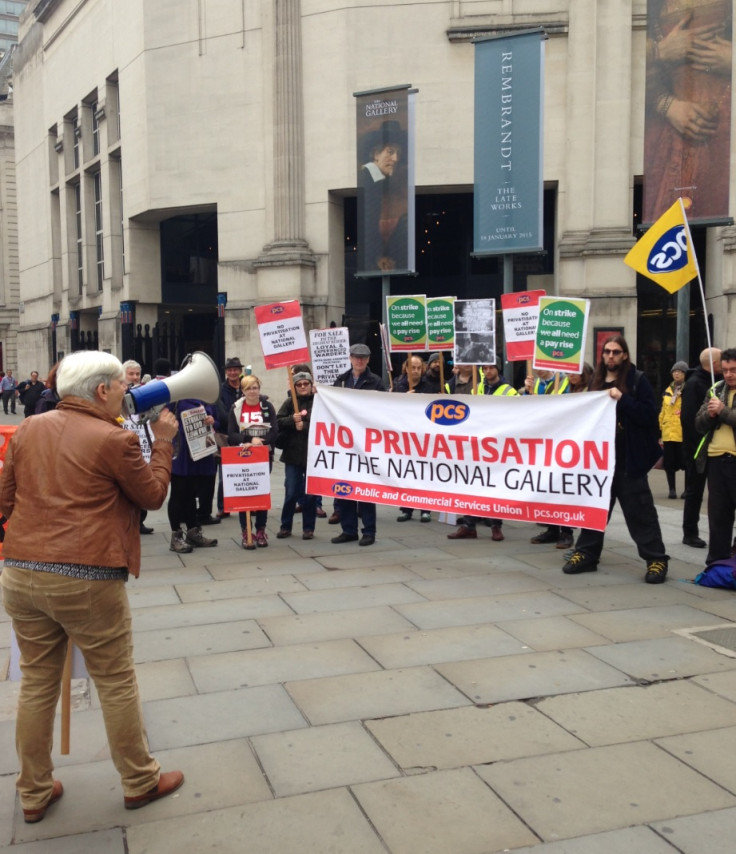 The world-renowned National Gallery has been hit with indefinite strike action as more than 200 members of staff launched a protest over privatisation plans today (11 August). The members of the Public and Commercial Services Union (PCS) started picketing the gallery in London's Trafalgar Square this morning and will review the industrial action on a weekly basis.
The workers are opposed to the privatisation of the gallery's visitor service and want PCS representative Candy Udwin, who was sacked by the company, to be reinstated. The employees have urged Gabriele Finaldi, who is set to succeed Sir Nicholas Penny as the gallery's new director next week, to help resolve the dispute.
A PCS official told IBTimes UK that the union would "like and expect" the art historian to meet the striking employees "at the earliest possibility".
The spokesman, who explained the union was open to negotiations at mitigation service Acas, said: "We don't have any talks planned, but we certainly would like and expect the new director to meet us at the earliest possibility."
The National Gallery, which employs more than 600 staff, said it would keep its doors open to the public and apologised for "any inconvenience" the action may bring.
The gallery also said all of its exhibitions were open and defended its decision to appoint security firm Securitas as a partner to help managed "some visitor-facing and security staff services".
"No members of staff will be made redundant in this process and all affected staff will continue to be paid the London living wage," the gallery said in a statement.
"All those staff affected will have the option to move to Securitas with the same terms and conditions and remain a valued part of the National Gallery family (just like their fellow staff members who are employed by DOC, Antenna and Peyton & Byrne etc).
"The National Gallery is one of the last major national museums and galleries to take this step of appointing."