England T20 captain Stuart Broad has defended his side's ability to play spin bowling after their record 90-run defeat to India in Colombo.
After India finished on 170 for 4 from their 20 overs, England struggled from the off with Alex Hales and Luke Wright both being dismissed by Irfan Pathan.
But it was when the spin of the returning Harbhajan Singh and Piyush Chawla came into the attack that England struggled, as their troubles with sub-continental conditions continued, with the defending champions in crisis heading into the super-eight stage.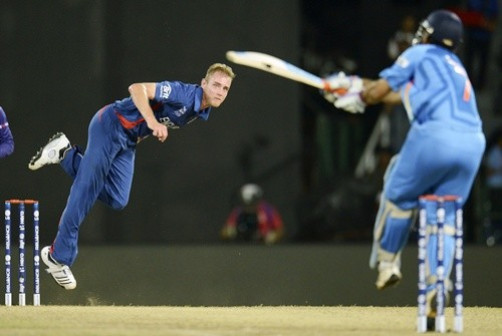 "It doesn't change our destiny a huge amount - we still hop on a bus to Kandy in the morning," Broad said. "It is not like tomorrow is going to be a different day. It is not as if we have to go home or anything.
"Our error today is we lost early wickets. Spinners always enjoy bowling to new batsmen.
"We talked the other day about how we need to hit straight and hard and today to lose the first couple of wickets across the line was a bit disappointing. Hitting straight was a much better option than going across the ball.
"I don't think the wicket turned massively to be honest," Broad added. "The guys getting out said it was just skidding on a little bit. There was a little bit of turn, Harbhajan bowled very nicely with his top-spinner going well but no, I don't think it was a raging turner or anything.
"We made it easy for India in the end. We will have to learn from our mistakes and there were some pretty clear ones in the batting line-up. Young guys seem to learn pretty quickly."
The performance with the bat mirrored previous showings in the southern hemisphere during the one-day series whitewash against India in 2011, and more recently on home turf against South Africa and in the warm-up game against Pakistan, where England struggled to adapt to varying conditions.
Despite travelling to Pallekele for their first Super Eight match, where the wicket is quicker, England's progression in the tournament will rely on their ability to acclimatise to slow pitches.
"I think we were a little bit sloppy in places: we had a few soft twos in the outfield," Broad said
"We didn't hit our lengths as well as we could up front. But I think it was the lowest first-innings score on this ground so far in the tournament. We thought it was very chaseable. The wicket was pretty flat, although it didn't have the pace in it that it had the other night.
"It will be interesting to see what the Pallakele wickets offer. There has been talk that in the Sri Lankan Premier League it seamed around a bit. We knew it was a bit dryer at the start but we wanted to try a different balance of side with the four seamers in a game that we could afford to lose. It was a risk that we took and it didn't help us."