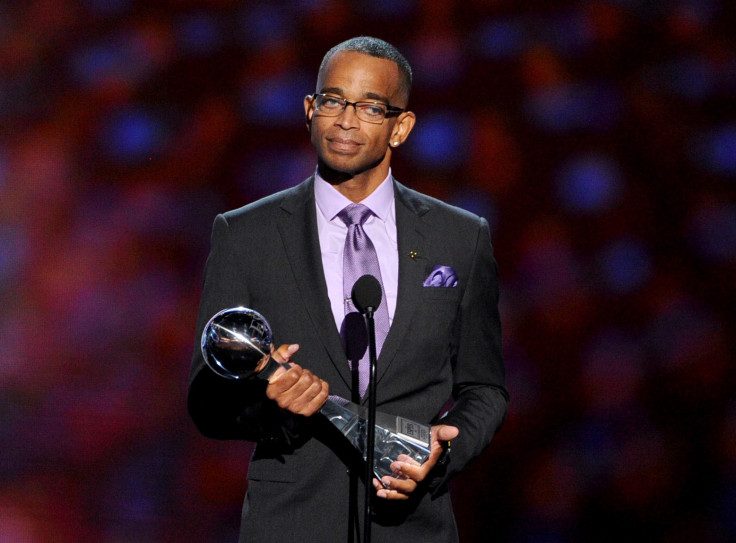 The sports world is in mourning following the death of ESPN anchor Stuart Scott. The 49-year-old star of SportsCenter passed away on Sunday 4 January after losing his seven-year battle with cancer.
During her illustrious career, he interviewed stars including Kevin Hart, Tiger Woods, Sammy Sosa and President Barack Obama, made cameos in 10 movies and was awarded an EPSY in 2014.
Paying tribute, Obama described Scott as an inspiration man.
He said: "I will miss Stuart Scott. Twenty years ago, Stu helped usher in a new way to talk about our favourite teams and the day's best plays. For much of those 20 years, public service and campaigns have kept me from my family – but wherever I went, I could flip on the TV and Stu and his colleagues on SportsCenter were there. Over the years, he entertained us, and in the end, he inspired us – with courage and love. Michelle and I offer our thoughts and prayers to his family, friends, and colleagues."
Although Scott was best known for his use of unique catchphrases, it was the witty slogans and the words of wisdom he shared during his fight with cancer that captivated the hearts of millions across the globe.
On his cancer battle
"When you die, that does not mean that you lose to cancer. You beat cancer by how you live, why you live, and the manner in which you live."
On family
"The best thing I've ever done, the best thing I will ever do is be a dad to Taelor and Sydni."
Achieving success with ease
"As cool as the other side of the pillow."
On perseverance
"So live. Live. Fight like hell. And when you get too tired to fight, lay down and rest and let somebody else fight for you."
Not being ashamed to ask for help
"This whole fight, this journey thing is not a solo venture. This is something that requires support."
On building connections
"Everyday i'm reminded that our life's journey is really about the people who touch us."
Making dreams a reality
"Don't downgrade your dream just to fit your reality. Upgrade your conviction to match your destiny."