The fate of the student opportunity fund is to be decided between David Cameron, George Osbourne, Nick Clegg and Danny Alexander.
The quartet at the top of the coalition government have to break the stalemate between the Department on Business, Innovation and Skills (BIS) and the Treasury over slashing the £327m fund. The Treasury and the Cabinet Office are pressing for imminent reductions as part of cost savings being imposed on the BIS.
The student opportunity fund supports students from disadvantaged backgrounds to attend university. It is used to widen access, keeping poor students in higher education.
Vince Cable, business secretary, and David Willetts, higher education minister, are said to be against cuts. Alexander, the Liberal Democrat minister who oversees departmental spending, reportedly wants to eradicate most or all of the fund.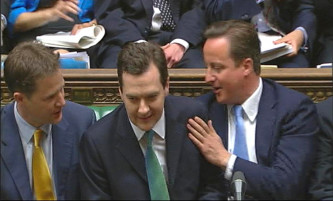 A source told the Guardian that the figure being discussed was the entire £327m assigned to the fund, as opposed to the £200m originally thought. The £327m is known as the "widening participation grant", which BIS uses to pay universities that recruit students from disadvantaged backgrounds, from the Higher Education Funding Council for England.
£100m has been cut from the national scholarship programme, designed to improve social mobility in higher education.
Liam Byrne, Labour's shadow minister for higher education, said that the cuts might be a result of the coalition government failing to fulfil its pledge to expand recruitment in universities in England.
He said: "It's completely unacceptable for Britain's poorest students to pay for the dogma, deception and pure mismanagement at the Department for Business. No one can now believe a word the chancellor has said about promised new places."
The National Union of Students denounced the cuts, saying the government was backtracking on its pledge to support social mobility.
Toni Pearce, NUS president, said: "Cutting the Student Opportunity Fund is an absolute disgrace and, in the wake of cuts to the National Scholarship Programme, looks like the government is backtracking on its commitment to support social mobility in favour of balancing the books on the backs of the poor.
"We already know that young people from the most advantaged neighbourhoods in England are still three times more likely to enter higher education than those from the most disadvantaged. Unfortunately, the government's sustained attacks on our education system do nothing to help young people with the financial practicalities of staying in college and moving onto higher education.
"When the government is lavishing funds on for-profit providers, it is particularly outrageous that it is once again stripping away opportunities from the poorest students."