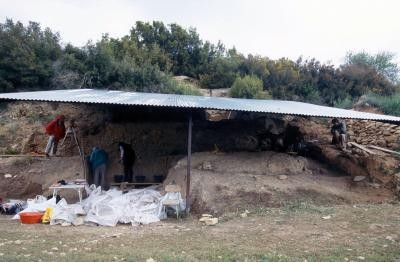 Humans living in the Upper Palaeolithic Age recycled their stone artifacts to be put to other uses, researchers from the Universitat Rovira i Virgili, the Catalan Institute of Human Paleoecology and Social Evolution (IPHES) have found.
The finding is based on an analysis of some burnt remains found in the Molí del Salt site (Tarragona) dating back to the end of the Upper Palaeolithic Age some 13,000 years ago.
"In order to identify the recycling, it is necessary to differentiate the two stages of the manipulation sequence of an object: the moment before it is altered and the moment after. The two are separated by an interval in which the artifact has undergone some form of alteration. This is the first time a systematic study of this type has been performed," said Manuel Vaquero, researcher at the Universitat Rovira i Virgili.
The study found that recycling of tools was common during the Upper Palaeolithic Age. This practice was more common for domestic activities and seems to be associated with immediate needs, according to the study published in the Journal of Archaeological Science.
Recycling could have been a determinant in hunter-gatherer populations during the Palaeolithic Age if the behaviour of current indigenous populations is taken into consideration, say the researchers.
"It bears economic importance too, since it would have increased the availability of lithic resources, especially during times of scarcity. In addition, it is a relevant factor for interpreting sites because they become not just places to live but also places of resource provision," said Vaquero.
Reusing resources meant that these humans did not have to move around to find raw materials to make their tools. They would simply take an artifact abandoned by those groups who previously inhabited the site and they would convert it into a useful tool.