She has maintained a suspiciously low profile on social media in recent months, but actress Michelle Keegan has come out of the woodwork with some big career news.
The 30-year-old former Coronation Street star took to her Instagram page to share a stunning snap of herself wearing a glitzy gold embellished maxi dress from her new fashion collection with e-commerce site Very.
Keegan – who has had several successful fashion lines with Lipsy London for several years – wowed in the new snap with her shoulder length dark hair and naturally flawless make-up.
She captioned the exciting post: "So excited to finally announce my new fashion collaboration with @VeryUK #VeryxMichelle Available from 25th September".
Many of the Our Girl star's followers commented on the snap, with one person telling her: "So beautiful inside and out Miche x x ❤️❤️" as someone else said: "Wow you look stunning!!! @michkeegan you go girl!!"
A third added: "Absolutely stunning ☺️ cannot wait to see the range!"
Keegan has barely posted on Instagram in recent months, with her last snap of a meme being shared to her account a month ago.
She is the latest celebrity to join forces with the online brand, which has been known for its star-studded collaborations. A few of the famous faces to have designed ranges for Very include Holly Willoughby, Fearne Cotton and Rochelle Humes.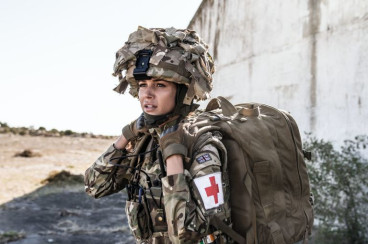 Keegan – who has been married to television host Mark Wright since 2015 – has had a very busy year designing her new range and filming the third series of BBC1 hit drama Our Girl as the character Lance Corporal Georgie Lane.
She has been forced to spend time away from Wright for much of 2017 as she films the show in destinations including Nepal and Malaysia. She is set to join Wright in LA post filming.
A source told The Sun: "Once Michelle has finished filming Our Girl at Christmas she's flying out to America to join Mark.
"She hasn't committed to any big projects after that to make sure she can stay for as long as she likes – she isn't 'moving there' per se but they will split their time equally between here and LA and she will jet back and forth as much as possible."
Keegan's range for Very will be available from 25 September.