While the "Mass Effect 3" franchise is hurtling from one controversy to another, ominous signs loom large with the Star Wars' "Old Republic" franchise's dwindling fanbase and BioWare's own inexplicable woes. The gains for the hapless game developer seem far and few between, even as it continues offering freebies to please its enraged community of hardcore gamers. We may recall the free DLC's that have been announced for the ME3 franchise and now the focus has shifted to "Star Wars: The Old Republic" (SWTOR).
The hitch with the offer - a free month of playtime - is that it is limited to select subscribers owning a character higher than Level 50 and a long-standing credible account with BioWare. The only consolation is that regardless of the account status, every player will receive a Tauntaun Ram Legacy pet, according to pikiGEEK.
The freebie offer comes in the aftermath of BioWare's blunders in recent times. One such blunder points to an incredibly large 1.2 update that released a week ago without ranked PVP warzones (which BioWare promised to include with the update). The instance followed with the release of unusually large mini-patches over the next 36 hours, severely hogging the server resources and crashing them down in the process, reveals the same report.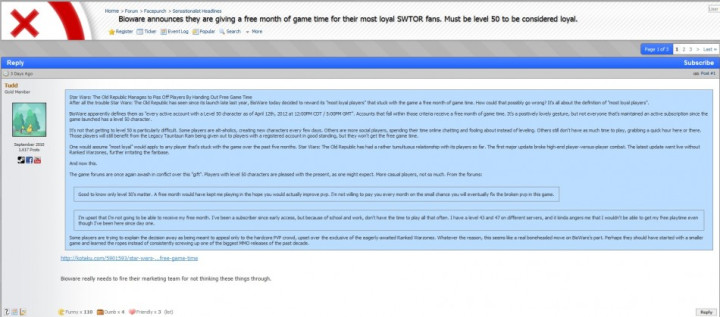 Although, several other sites have reported the angry messages from the fan community, BioWare's stand holds good from a business point of view. It is only viable to reward the loyal and long-standing subscribers in a bid to retain the select customers, who are expected to come back month after month. BioWare seems to be making amends for its shortcomings in satisfying the hardcore gaming community regardless of the 1.2 update and not to forget the endless nightmare of glitches and bugs affecting the franchise.
Here are some reactions of angry fans posted on forum threads:

"Really conflicted on this. On the one hand, it's really cool for an MMO developer to give a huge amount of people 30 days of gametime in a subscription based title. On the other, it's a huge dick move to imply that your most loyal fans are only people who reach a certain arbitrary number, and not people who have been with the game from the beginning. Friend of mine is actually kind of upset (not mad, just depressed really) that he bought the game at launch and won't get 30 days of gametime because he has been busy with school. I think this promotion would have worked better if they gave everyone with an active account 30 days for free," writes one user.
"Why not to every play who's been subscribed from the founder title release etc. Seems I guess a little more fair? :V," says another forum user.
MUST READ: 'Mass Effect 3' Patch and DLC: 'Resurgence' of Errors Draws More Flak for the Hapless Franchise
MUST READ: 'Mass Effect 3' Ending Controversy: Did BioWare Actually Deceive about Game's Conclusion?
MUST READ: Mass Effect 3: 'Resurgence Pack' DLC Hits Xbox 360, PS3 and PC [SPOILERS]